AHC Brilliant Gold Essence
Discount per Quantity
Quantity
2
3 - 4
5 - 8
9 +
Price

US$

1.42

US$

1.40

US$

1.39

US$

1.37
Out of stock
SKU: AHC030004 - Need Help? Contact Us Leave Feedback
Categories: Acne & Blemishes, AHC, Anti-Aging, Brands, Day Cream, Dry Skin, Dull Skin, Essence, Face Moisturizers, Korean Skin Care, Night Cream, Night Cream, Pores, Prime Products, Shop by Concern, Skin Care, Uneven Skin Texture, Wrinkles
Contact Us
Please find the Live Chat Box at the bottom right corner. We're ready to help 18 hours a day, 7 days a week. Please send us a message if we're not available to attend to you. Email:
[email protected]
Call customer services on +852 3618 5855 (HK)
DescriptionHow toIngredientsQ&Athe BrandShipping
BRILLIANT GOLD ESSENCE
Which skin type is it good for?
* Dry
* Oily
* Combination
* Normal
What it is:
– The Brilliant Gold Essence harmonizes Gold, Vitamin B5, Hyaluronic acid, and Niacinamide to deeply moisturize and repair damaged skin
– This nutrient-rich Essence also diminishes the appearance of acne scars, fine lines, wrinkles, and other aging-related skin concerns
– The Hyaluronic acid ingredient not only induces moisture and nutrients into the skin, but it also unleashes its moisture lock function to spur lasting radiance and suppleness
– It effectively corrects sagging skin by enhancing its firmness and elasticity, while improving the appearance of enlarged pores for a smoother, glowing complexion
– The Essence has an antioxidant effect that limits the production of free radicals that might damage the skin
It helps:
– Skin dryness
– Skin dullness
– Anti-aging 
– Anti-oxidant function
– Moisture lock-up function
– Fine lines and wrinkles
– Acne & Blemishes
– Uneven skin texture
– Pores
– Damaged skin
TofuSecret guarantees a low price for this great AHC skincare item. We promise a lower price point compared to your local drugstores, pharmacies, or supermarkets.
Are you a fan of AHC products? Please check out AHC for all quality AHC products at TofuSecret.
– Apply an appropriate amount of the Cream on the eye skin, smile lines, and neck wrinkles
– Massage lightly to stimulate blood circulation and enhance absorption
– Include the Cream in your daily skincare routine (morning or evening) for the best results
Capacity: 2.03 oz / 60ml
Made in: South Korea
Ingredients
Purified Water, Glycerin, Butylene Glycol, Denatured Alcohol, Niacinamide, Linseed Seed Extract, Ethylene Glycol, Caviar Extract, Gold (CI 77480), Scutellaria Baicalensis Root Extract, BIS?Peg -18 Methyl Ether Dimethyl Silane, PEG-60 Hydrogenated Castor Oil, 1,2-Hexanediol, Panthenol, Sodium Polyacrylate, Agar, Acrylates/C10-30 Alkyl Acrylate Crosspolymer, Gellan Gum, Carrageenan, Adenosine, Octyldodeceth-16, Sodium Chondroitin Sulfate, Cyclohexasiloxane, Biosaccharide Gum-1, Beta-Glucan, Silk Amino Acid, Ethylhexylglycerin, Xanthan Gum, Carbomer, Disodium EDTA, Phenoxyethanol, Spice, Mica (CI 77019), Red Oxide Of Iron (CI 77491), Titanium Dioxide (CI 77891), Yellow Oxide Of Iron (CI 77492)

Questions and answers of the customers
There are no answers for this question yet.

Answer now
Over the years, the brand has grown in leaps and bounds to what is now one of the most loved skincare lines in Korea, and the fastest growing brand in the world. The patented product developments process blends the most up-to-date scientific knowledge, well-thought formulations, and optimized usage methods for the best results. All the products are developed from carefully selected ingredients to enhance their effectiveness on the skin.  
More AHC products at [AHC Online Store Page]
6% OFF On

 Use Code: SK2FEVER

 

6% OFF On

 Use Code: HIFU20



 All of our products are 100% authentic

 Guaranteed lowest price

 Why buy from TofuSecret?
TofuSecret guarantees a low price for this great item. We promise a lower price point compared to your local drugstores, pharmacies or supermarkets.
 

The secret of K-pop celebrities' perfect skin and v-shaped face! 😱

HIFU Lifting Treatment Portable Device for Home use

Non-surgical facelift system for [Wrinkle reduction / Tightening sagging skin on the neck / Lifting the cheeks, eyebrows, and eyelids / Enhancing jawline definition / Tightening of the décolletage / Smoothing the skin]

15% OFF  Use Code: HIFU20
Not sure which of our products is right for you? Take a quiz and you'll receive personalized skin care product recommendations and advice based on your answers. Start here:
AHC BRILLIANT GOLD ESSENCE

What is AHC BRILLIANT GOLD ESSENCE?
– The Brilliant Gold Essence harmonizes Gold, Vitamin B5, Hyaluronic acid, and Niacinamide to deeply moisturize and repair damaged skin
– This nutrient-rich Essence also diminishes the appearance of acne scars, fine lines, wrinkles, and other aging-related skin concerns
– The Hyaluronic acid ingredient not only induces moisture and nutrients into the skin, but it also unleashes its moisture lock function to spur lasting radiance and suppleness
– It effectively corrects sagging skin by enhancing its firmness and elasticity, while improving the appearance of enlarged pores for a smoother, glowing complexion
– The Essence has an antioxidant effect that limits the production of free radicals that might damage the skin
It helps:
– Skin dryness
– Skin dullness
– Anti-aging 
– Anti-oxidant function
– Moisture lock-up function
– Fine lines and wrinkles
– Acne & Blemishes
– Uneven skin texture
– Pores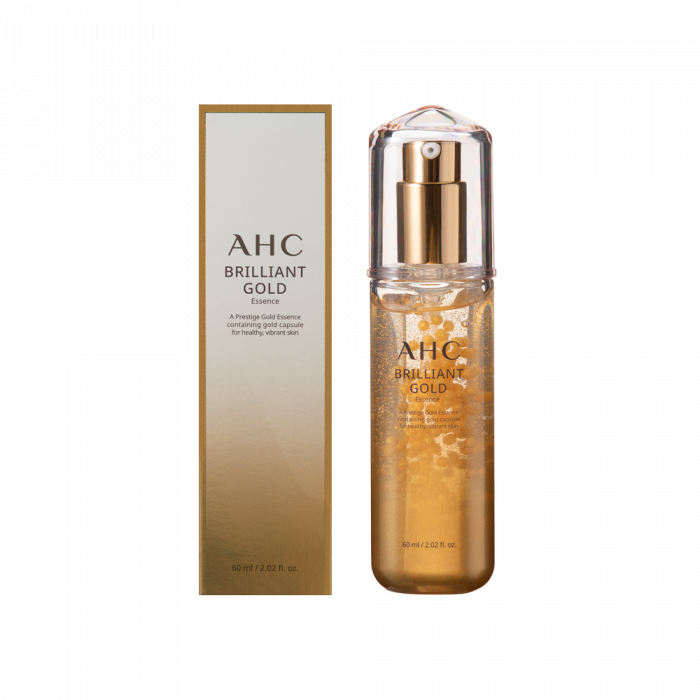 Questions and answers of the customers
There are no answers for this question yet.

Answer now
Related Products
Sale!

Brands, Dry Skin, Essence, Face Moisturizers, Korean Skin Care, Laneige, Moisturizers, Night Cream, Perfect Renew (Laneige), Prime Products, Shop by Concern, Skin Care, Uneven Skin Texture, Wrinkles

US$

61.25 Purchase This Item And Earn 56 points!




3.4oz / 100ml

Sale!

US$

50.00 Purchase This Item And Earn 39 points!




6.76oz / 200ml