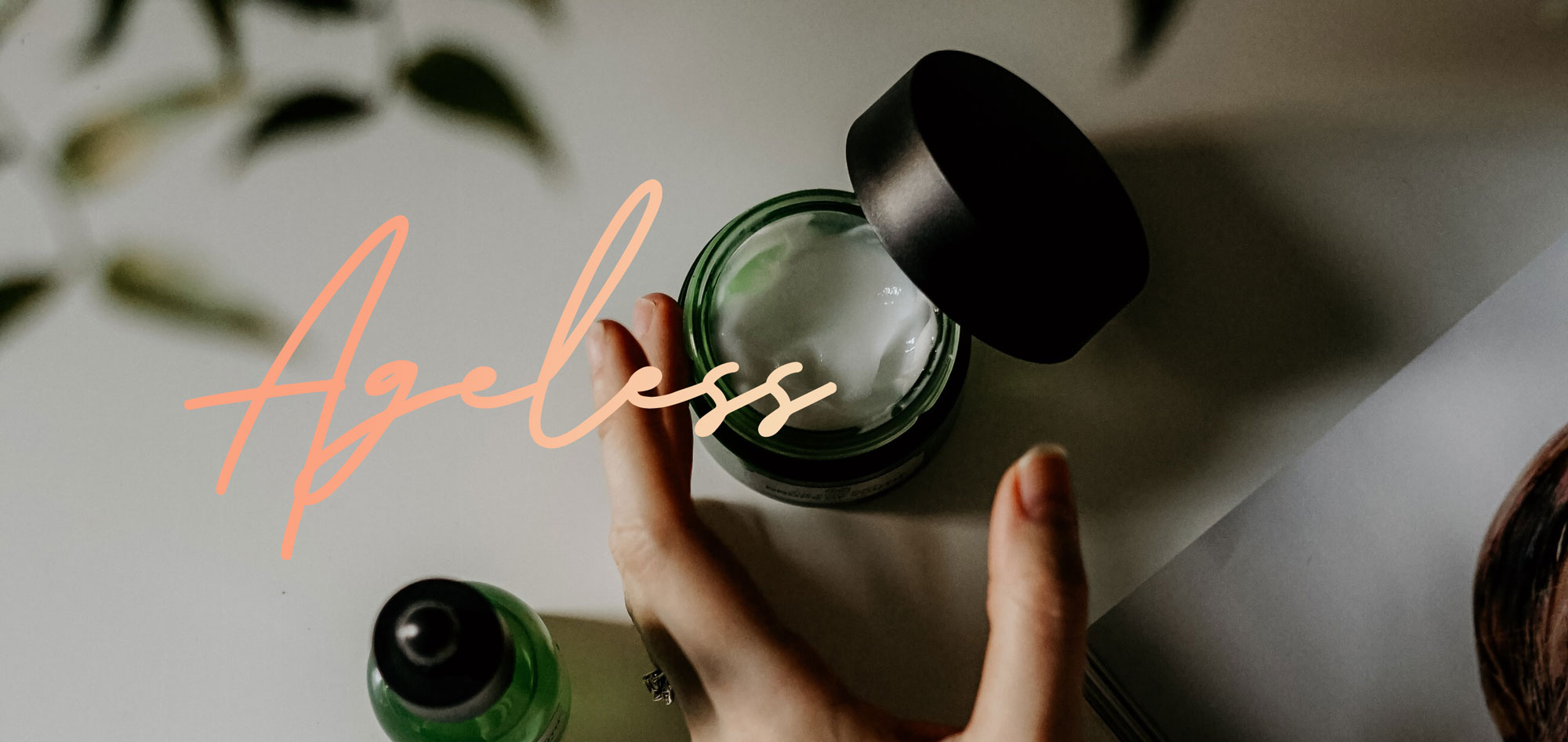 Best Anti-Aging Cream Research: Product Efficacy Study about Youth Restoration
Contrary to popular opinion, anti-aging creams are not just for your grandmother, but instead an essential product that we can all benefit from. In fact, the earlier you start taking care of your skin, the better. From getting adequate sleep and drinking plenty of water to staying out of the sun and incorporating an anti-aging cream in your skincare routine, it's never too early to start.
However, just like any other line of skincare, there are numerous anti-aging Cream /anti-aging products and picking one can be overwhelming. So, why not ask the important questions here? How do anti-aging products work? How effective are these creams? Which specific ingredients should I look for and how effective are they? What can I do to combat anti-aging wisely?
The big question is how do you know if the product is effective when the brand says it's the most effective?
This article will delve deep into all areas of concern and answer all your questions. So, shall we?
The Rising Demand
According to research, the use of anti-aging products has been on the rise, which explains why it's the most prolific skincare category based on unit sales. The need to start taking care of the skin from an early age and the changing age demographics makes anti-aging creams essential. From middle aged people to the oldies, premium anti-aging products are in high demand.  This also indicates that the general public may think cheap anti-aging skincare products are less effective.
On the other hand, we can see that the base of anti-acne skincare products is not growing, which may be because the birth rate in developed countries and China has plummeted to very low levels in the past decade, so that products with young skin problems are now losing momentum.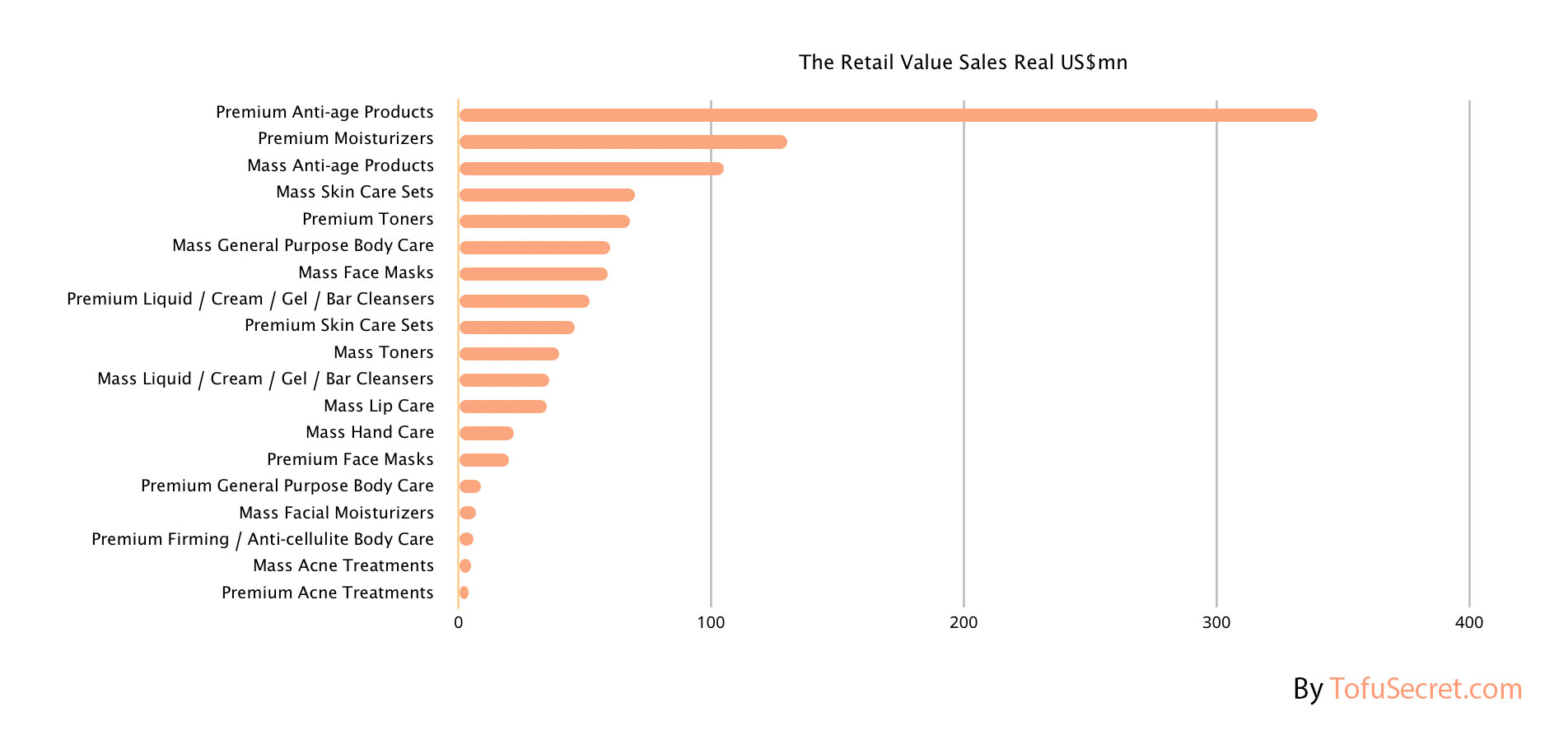 Source: Statista
Most Important Skincare Benefits 
Anti-aging creams are popular around the world, mostly because they consolidate the functions of different skincare products. How is that? You might be asking. Well, the best anti-aging creams are good moisturizers and sun protectors. Moisturizing is important in plumping the skin and restoring its vitality to correct sagging. On the other hand, exposure to UV rays is one of the reasons for the decline in collagen production, and thus the best anti-aging cream should protect your skin from sun damage too. 
When it comes to the benefits of different skincare products, anti-aging is ranked third after moisturizing and sun protection. Having one product that can play the role of the two most important skincare benefits and still stand on its own is very viable, especially for people who like 'all-in-one' deals. 
As can be seen from the latest survey, the first three most popular skin-care benefits are moisturizer, sun protection and anti-aging. It's no surprise that moisturizing and sun-protectant are ranked first and second among the most important skincare benefits for most skin care product users because the benefits are obviously visible. 50% of skin aging is caused by sun damage.  And dry, cracked skin is also more prone to wrinkles. If you do these two steps well, you will greatly enhance the anti-aging effect too.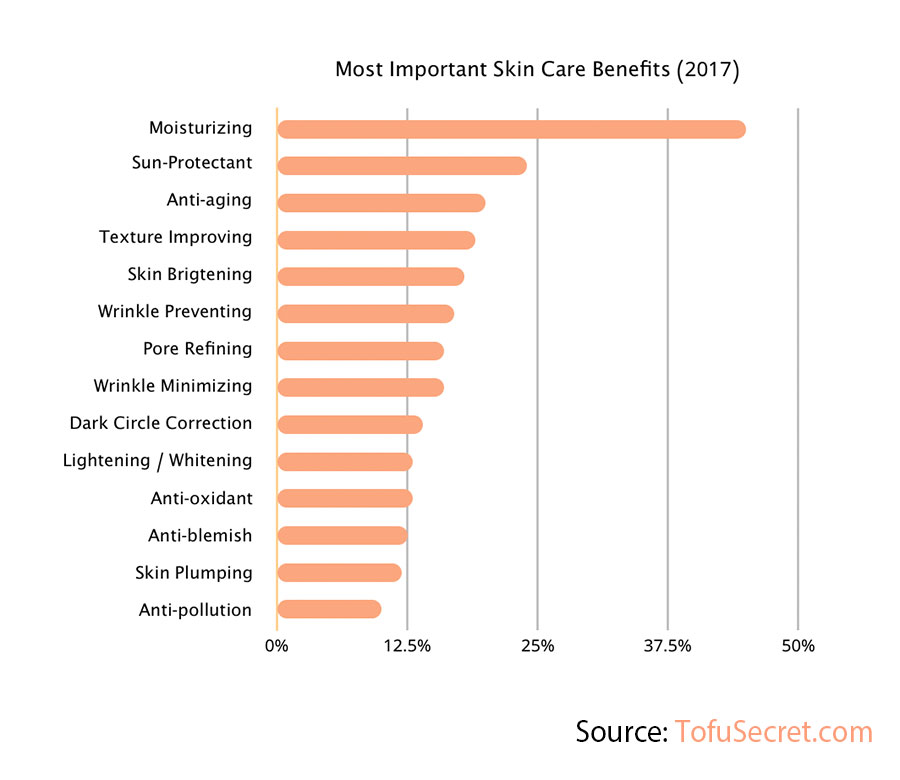 Source: Statista
Prevention and Skin Protection
Over the years, consumers have become more aware of the negative effects of UV rays and other irritants. The importance of prevention and skin protection has increasingly been underlined with the emphasis being on avoiding premature aging and maintaining healthy-looking skin from a young age. Every aspect that causes premature skin aging, including exposure to air pollutants, is getting the relevant coverage to equip consumers with the right information to combat it.  
And while the emphasis is on taking up a full-on anti-aging scheme, people are now adopting a holistic approach. The approach which holds that the skin is just but a unit, also focuses on your body and mind. The use of natural ingredients, vegan, and clean labels is becoming more common as brands look to reflect the holistic approach in their undertakings. 
How Do Anti-Aging Creams Work?
Away from the magical end result of plump and elastic skin, most people want to know how these anti-aging / anti-wrinkle creams work. To understand how they work, it's important that we appreciate what causes skin aging.
Normally, our skin produces collagen, a fibrous, supportive protein that holds skin cells together to give you an elastic, plump appearance. However, collagen production decreases with age as well as exposure to UV rays and pollution.
Anti-aging creams thus come in handy because they provide the skin with essential collagen while boosting its innate ability to produce more. For instance, Matrixyl is a common ingredient that's used in anti-aging creams to double the amount of collagen in the skin. This special peptide promotes an elastic and plump appearance regardless of your age.  
So, why deal with fine lines and wrinkles, when this collagen-boosting active ingredient can correct that for you? Anti-aging creams breathe life into your skin by enhancing vitality and elasticity for a youthful complexion.
According to the research report of J Clin Aesthet Dermatol, facial creams, eye creams and lip balms are effective anti-aging products, which can effectively reduce the appearance of fine lines, coarse lines and wrinkles and significantly increase the skin's moisturizing power. For facial and eye products, it can reduce the loss of skin moisture and these changes last at least 56 days without obvious adverse effects
How Effective Are Anti-Aging Creams?
As discussed earlier, anti-aging creams work to increase your skin's moisture content while strengthening the moisture barrier to discourage water loss. So, yes! These creams effectively drench moisture into the skin and contain it inside to enhance a plump, healthy look. Moreover, anti-aging creams target external stressors like UV rays to control skin damage.
By locking in the moisture, protecting the skin from sun damage, and reviving collagen production, these creams are able to inspire youthful, healthy-looking skin in no time. This tri-pronged approach gives your skin a new breath of life and ensures that you don't have to deal with a sagging and wrinkled face in the long run. 
Effective Anti-Aging Ingredients 
As stressed in the first tip when picking an anti-aging cream, the importance of the ingredients cannot be overlooked. So, here are some of the most effective anti-aging ingredients out there; 
Alpha Hydroxy Acids (AHAs).

These are special acids that are used in anti-aging products, including creams, toners, and serums. Additionally, they are extracted from essential ingredients like citrus fruits, royal jelly, grapes, among others. And while the main concern of anti-aging products is to promote collagen synthesis, AHAs go as far as promoting exfoliation and clearing dark spots. In fact, an AHA-enriched anti-aging cream will improve the appearance of fine lines and wrinkles, prevent acne breakouts, and brighten your complexion. 

Ceramides

. Just like AHAs, ceramides are very important in maintaining a youthful, healthy-looking complexion. These unique lipids strengthen the moisture barrier to lock in moisture and avoid water loss. They also protect your skin from external stressors like UV rays and pollution. Ceramides are thus essential because a small imbalance in the skin can compromise the moisture barrier and eventually offset premature aging.

Vitamins

. Vitamins are important for skin development with notable effects on clearing dark spots, redness, wrinkles, and dry patches. And while all vitamins (D, C, E, & K) are equally important to the skin, it's vitamins C & E that helps with anti-aging. 

Both vitamins are included in popular anti-aging products because they promote collagen synthesis. Vitamin C, in particular, repairs damaged skin and prevents dry skin. On the other hand, Vitamin E is an antioxidant and helps to protect the skin from sun damage. Moreover, it helps with skin inflammation and halts the development of dark spots and wrinkles.
Peptides.

These are short chains of amino acids that are responsible for your skin texture, strength, and resilience. They act as building blocks of proteins in the skin, which promote collagen synthesis and reduce the appearance of fine lines and wrinkles. This explains why the most popular anti-aging creams contain a percentage of skin-firming peptides.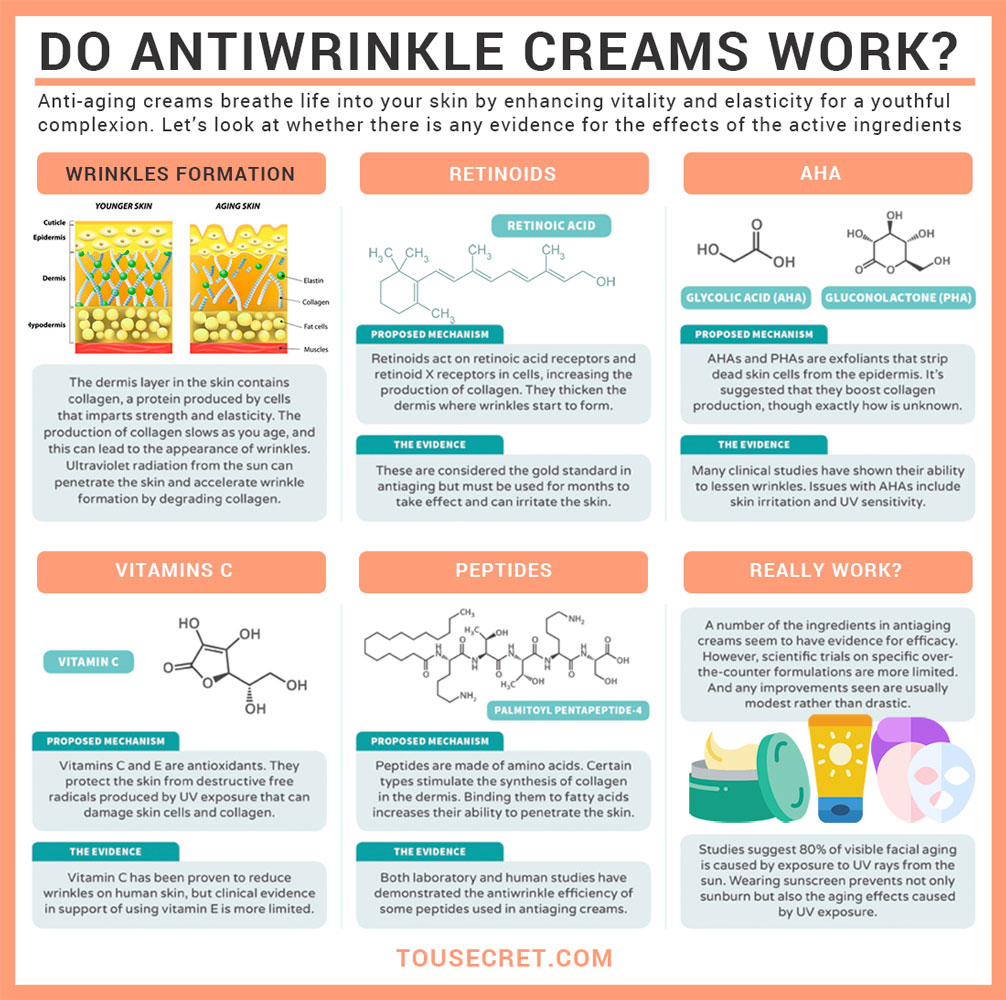 Brands, Dry Skin, Dull Skin, Eye Care, Eye Masks, Japanese Skin Care, Kracie, Puffy Eyes, Shop by Concern, Skin Care, Wrinkles

¥

2,799




60 Pieces
Important Tips When Picking an Anti-Aging Cream 
Pay attention to the ingredients list

. While this might sound like a cliché, any skincare product is as good as its ingredients. It's the components that determine how well it will meet your needs. So, make sure it has the right ingredients for your skincare needs. Additionally, ensure your ideal choice is free of fragrance, preservatives, parabens, and other irritants. 

Always choose creams that are specific in what it is that they do

. Every brand out there has an anti-wrinkle cream. However, we recommend that you prioritize those that focus on special aspects like the weather, skin type and condition, as well as your precise skincare goals. 

The expiry date is very important

. There's no point in having the 'best-selling' anti-aging cream if it's already expired. So, check to confirm that the expiry date is far enough before you buy it. Additionally, check for an open jar illustration at the back of the bottle to confirm for how long you can use the cream after opening it. Most of them have 12M, 18M, or 24M written, representing the number of months you have to use it.
We recommend that you buy the right size depending on the number of months indicated.
The Loopholes
Consumers are increasingly adopting a holistic approach where skin, body and mind are considered as a single entity.  The adoption of natural ingredients, vegan and clean labels on skincare products are increasing.
However, the Food and Drug Administration (FDA) agency is yet to define what natural and clean means. This has left a gap in the market and every other brand is using these two magic words to deceive beauty enthusiasts. And as serious as it is, the role of examining what's actually genuine lies with the consumer. 
Summary
To sum it up, anti-aging creams are very important in protecting and revitalizing the skin. They strengthen the moisture barrier to wade off external stressors and drench moisture into the skin for long-lasting suppleness. Moreover, with essential ingredients like ceramides, peptides, AHAs, and vitamins C & E, your regular cream can be a haven for deprived skin. From clearing dark spots to repairing damaged skin, consistent use of anti-aging creams will leave you with a glowing and youthful complexion. 
Remember, it's never too early to start using an anti-aging cream. In fact, starting early induces resilience and strength to your skin so that it looks younger even when you're in your 60s.
TofuSecret guarantees you the very best quality of anti-aging creams. And as you might have noticed, the emphasis is more on quality and not quantity. Our team of skincare experts evaluates every brand before welcoming it on board to ensure that our stringent quality control standards are met.
Quite a tasking endeavor. Right? Well, you don't have to worry about that. Tofusecret, one of the largest megastores in Asia, offers you a wide range of dermatologist-tested, anti-aging products to choose from. More prominence is given to brands with the green seal of approval and whose products are natural and clean. The naturally extracted ingredients boast of overflowing radiance that reverberates to your skin for a renewed feel and look.