COSRX AC Collection Acne Patch
Discount per Quantity
Quantity
2
3 - 4
5 - 8
9 +
Price

€

5.89

€

5.83

€

5.77

€

5.71
In stock
SKU: COSR90002 - Need Help? Contact Us Leave Feedback
Categories: AC Collection (COSRX), Acne & Blemishes, Acne Treatment, Brands, COSRX, Hidden Treasures, Intensive Care, Korean Skin Care, Prime Products, Shop by Concern, Skin Care
Contact Us
Please find the Live Chat Box at the bottom right corner. We're ready to help 18 hours a day, 7 days a week. Please send us a message if we're not available to attend to you. Email:
[email protected]
Call customer services on +852 3618 5855 (HK)
DescriptionHow toIngredientsQ&Athe BrandShipping
AC Collection Acne Patch
Which skin type is it good for?
* Dry
* Oily
* Combination
* Sensitive
* Normal
What it is:

– This Patch is formulated with Hydrocolloid, an acne cover that helps to protect irritated areas from bacteria and Centella Asiatica Extract that helps to heal the acne altogether
– The Hydrocolloid ingredient absorbs pus while creating a protective barrier on the skin surface to wade off water, bacteria, and dirt from the wounds and inflamed areas
– Centella Extract also soothes inflamed skin
– The Patch has a thin, elliptical shape with strong adhesion power even on curved areas such as the jawline and hairline
– They're designed in 3 different sizes (Small, Medium, Large) thus making it easier for you to pick the ideal one
It helps:
– Acne
– Protects the skin

– Soothing
TofuSecret guarantees a low price for this great COSRX skincare item. We promise a lower price point compared to your local drugstores, pharmacies, or supermarkets.
Are you a fan of COSRX products? Please check out COSRX for all quality COSRX products at TofuSecret.
– Start by Cleansing and drying the affected areas
– Apply a suitable-sized Patch on the wounded area/pimple
Capacity: 26 Patches

Made in: Korea
Ingredients
Carboxymethylcellulose sodium, Polyisobutene, Rosin, Polybutene, Mineral oil, Centella Asiatica Extract, Polyuethane film
Questions and answers of the customers
Life is meaningless without hopes, so is skin care. If you view skin care as a chore that you do not enjoy, you are missing the right product. The right product gets you expecting tomorrow because it brings you confidence that your skin will be better day by day. COSRX is here to be your Mr. Right. The slogan of the brand – 'EXPECTING TOMORROW,' tells you the magic of the products. Let's start making a better tomorrow now.
Other than improvement in your irritated skin, COSRX gets you EXPECTING TOMORROW for the brand listens to your voice and turns it into reality. In 2015, a product of your voice, the skin-friendly Low pH Good Morning Gel Cleanser was born, responding to the demand for a way to keep your skin back to a healthy state. The dermatologists are always looking forward to offering better solutions that are more effective, concern-centered, and skin-friendly. 
More COSRX products at [COSRX Online Store Page]
6% OFF On

 Use Code: SK2FEVER

 

6% OFF On

 Use Code: HIFU20



 All of our products are 100% authentic

 Guaranteed lowest price

 Why buy from TofuSecret?
TofuSecret guarantees a low price for this great item. We promise a lower price point compared to your local drugstores, pharmacies or supermarkets.
 

The secret of K-pop celebrities' perfect skin and v-shaped face! 😱

HIFU Lifting Treatment Portable Device for Home use

Non-surgical facelift system for [Wrinkle reduction / Tightening sagging skin on the neck / Lifting the cheeks, eyebrows, and eyelids / Enhancing jawline definition / Tightening of the décolletage / Smoothing the skin]

15% OFF  Use Code: HIFU20
Not sure which of our products is right for you? Take a quiz and you'll receive personalized skin care product recommendations and advice based on your answers. Start here:
Want to get something with similar functions at a lower price ?! 😱

NEOGEN Dermalogy A-Clear Soothing Clear Spot Patch

These hydrocolloid patches help to absorb pus, secretions, and other impurities from troubled spots for an intensive spot treatment.
COSRX AC Collection Acne Patch

What is COSRX AC Collection Acne Patch?
– This Patch is formulated with Hydrocolloid, an acne cover that helps to protect irritated areas from bacteria and Centella Asiatica Extract that helps to heal the acne altogether
– The Hydrocolloid ingredient absorbs pus while creating a protective barrier on the skin surface to wade off water, bacteria, and dirt from the wounds and inflamed areas
– Centella Extract also soothes inflamed skin
– The Patch has a thin, elliptical shape with strong adhesion power even on curved areas such as the jawline and hairline
– They're designed in 3 different sizes (Small, Medium, Large) thus making it easier for you to pick the ideal one
It helps:
– Acne
– Protects the skin

– Soothing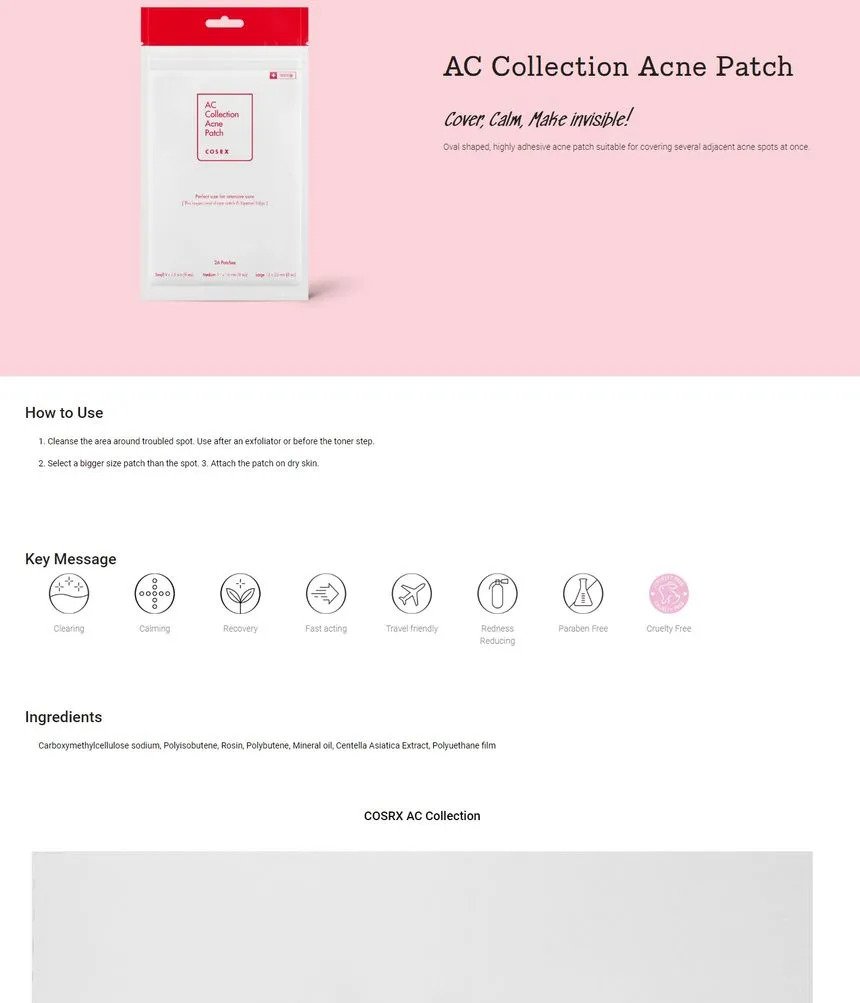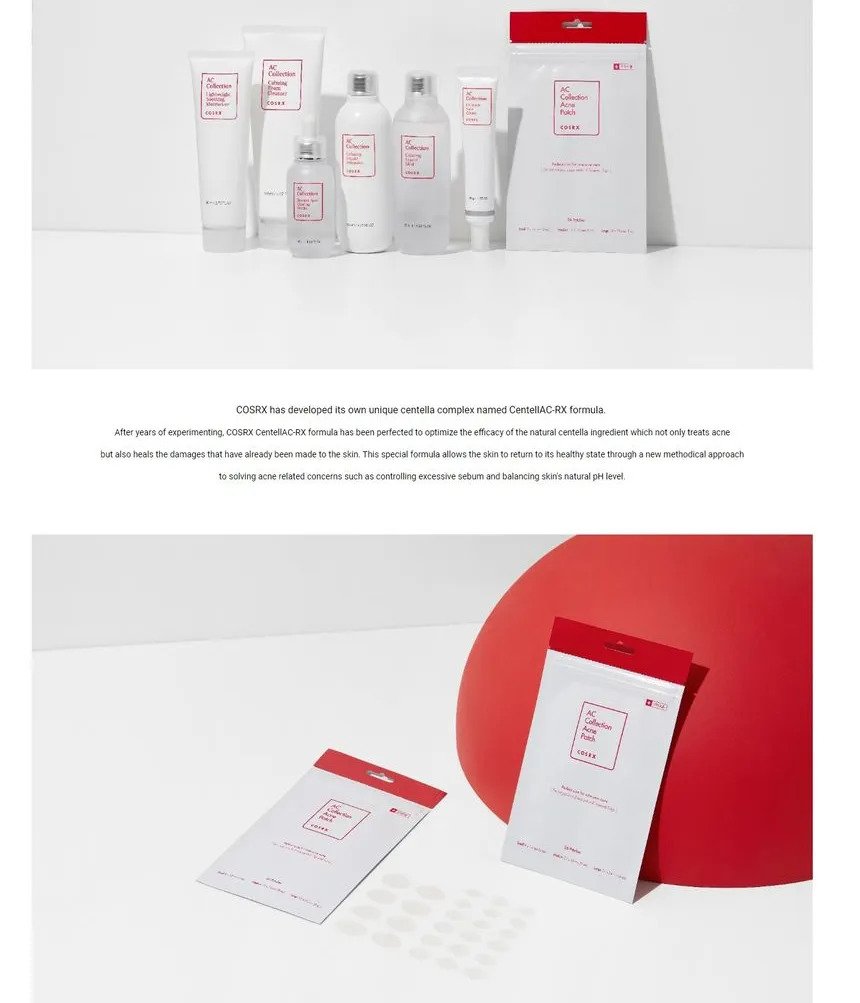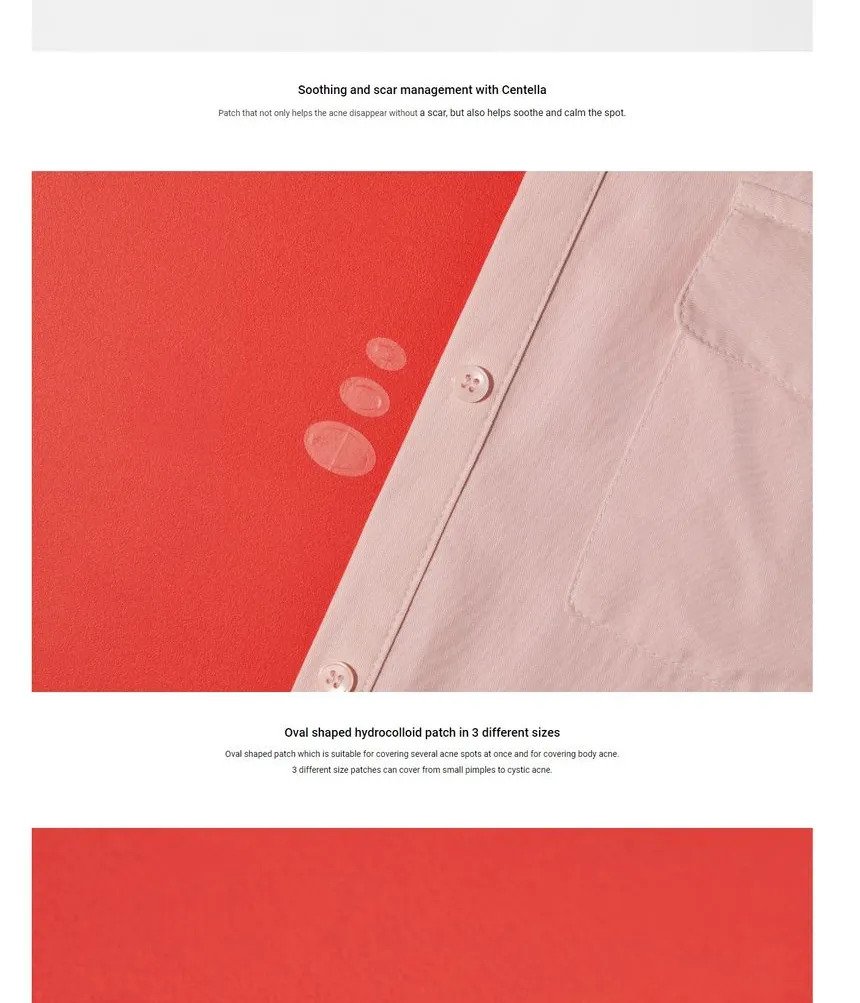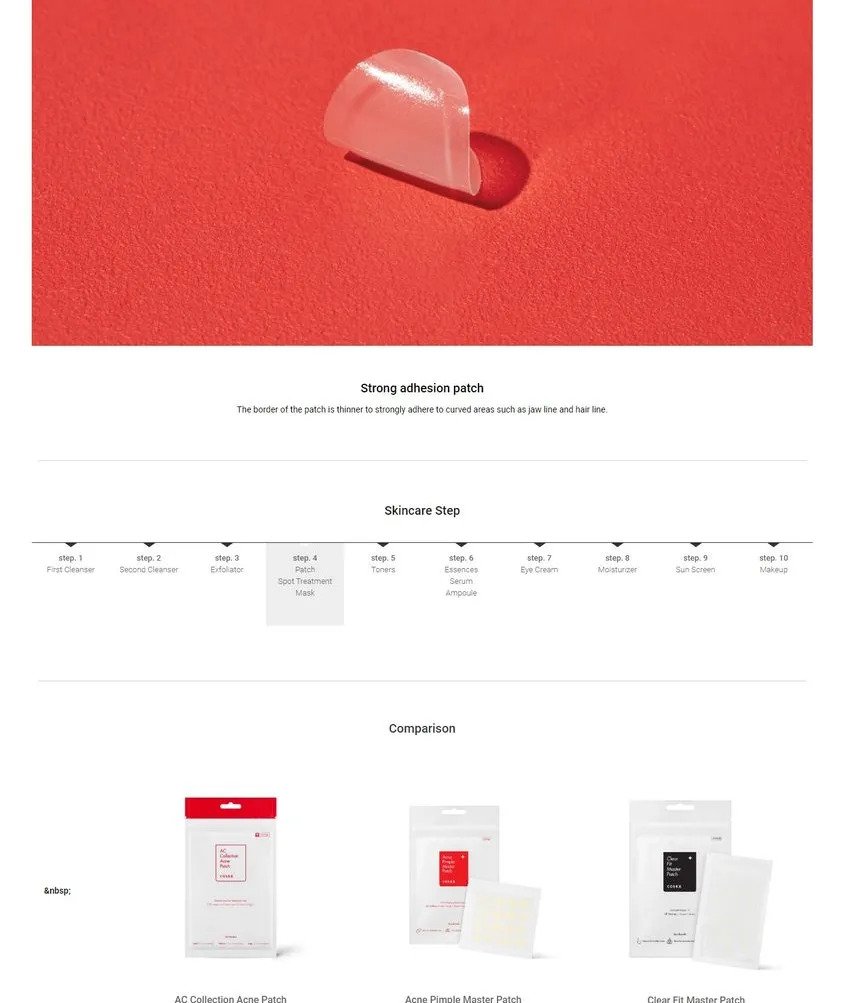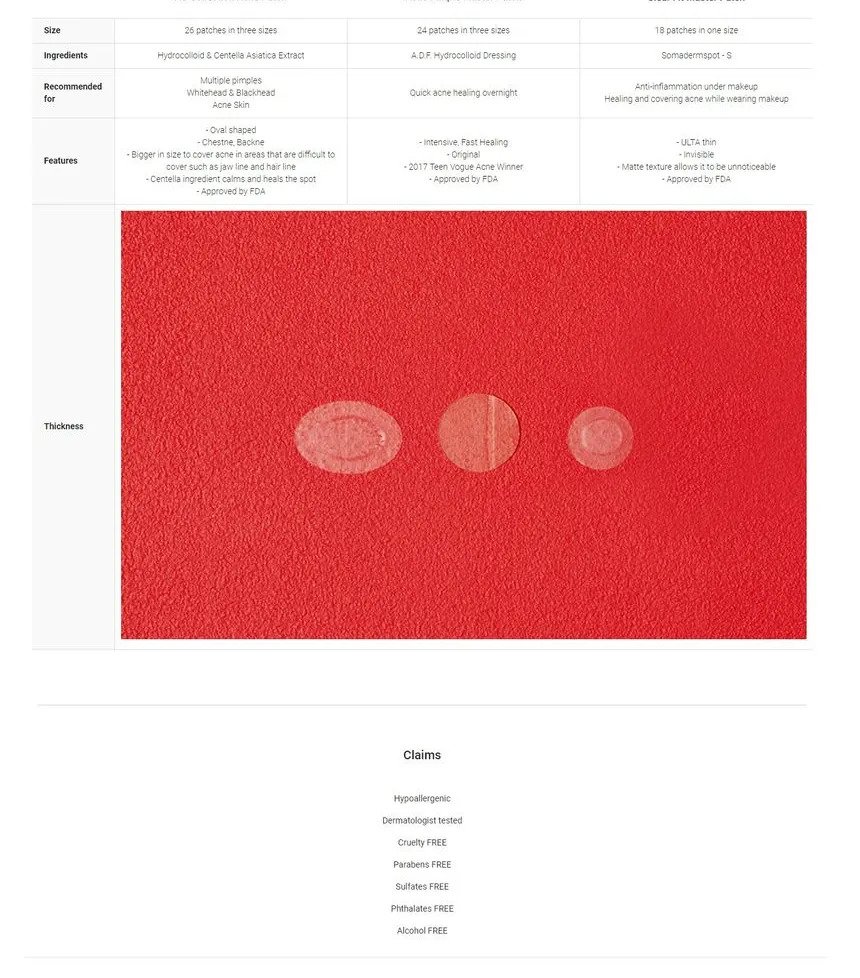 Questions and answers of the customers
Skin Concerns:
Acne & Blemishes
Convenient
I have used different patches in the past including some from COSRX but I think these are the best. In fact, let me put it this way; they're my favorite. They come in different sizes, allowing you to pick the ideal size for each of the targeted areas. Also, they have a tapered edge design that allows for easy application and peel off. The patches also rest well on the face and are undetectable even when I don't conceal them with makeup
Related Products
Sale!

Basic Care (Laneige), Brands, Dry Skin, Dull Skin, Face Moisturizers, Korean Skin Care, Laneige, Moisturizers, Prime Products, Shop by Concern, Skin Care

€

37.52 Purchase This Item And Earn 31 points!




4.06oz / 120ml

Sale!

Basic Care (Laneige), Brands, Dry Skin, Dull Skin, Facial Peels, Intensive Care, Korean Skin Care, Laneige, Prime Products, Shop by Concern, Skin Care, Toners, Uneven Skin Texture

€

46.90 Purchase This Item And Earn 39 points!




6.76oz / 200ml