GOONGBE Moisture Lotion
Discount per Quantity
Quantity
2
3 - 4
5 - 8
9 +
Price

US$

1.19

US$

1.18

US$

1.17

US$

1.16
SKU: GOON30004 - Need Help? Contact Us Leave Feedback
Categories: Brands, Dry Skin, Face Moisturizers, Goongbe, Korean Skin Care, Moisturizers, Prime Products, Shop by Concern, Skin Care, Uneven Skin Texture
Contact Us
Please find the Live Chat Box at the bottom right corner. We're ready to help 18 hours a day, 7 days a week. Please send us a message if we're not available to attend to you. Email:
[email protected]
Call customer services on +852 3618 5855 (HK)
DescriptionHow toIngredientsQ&Athe BrandShipping
Moisture Lotion
Which skin type is it good for?
* Dry
* Oily
* Combination
* Sensitive
* Normal
What it is:
— GOONGBE is a Korean infant skincare brand dedicated to providing different products to keep your baby's skin balanced and healthy

— This Lotion uses 100% natural extracts to soothe the baby's skin while still protecting it from external stressors

— The Tripple Moisture Protect System helps to fill intercellular lipids, triglycerides, and fatty acids for lipid moisturizing

— Its regulates the skin temperature and moisture levels, always ensuring a healthy balance

— The dermatologist-tested, non-sticky formula makes the Moisture Lotion suitable for newborn babies and little kids

It helps:
— Skin dryness
— Uneven skin texture
— Soothing

TofuSecret guarantees a low price for this great GOONGBE skincare item. We promise a lower price point compared to your local drugstores, pharmacies, or supermarkets.
Are you a fan of GOONGBE products? Please check out GOONGBE for all quality GOONGBE products at TofuSecret.
How to:
— Use after washing the baby's face

— Apply an appropriate amount and spread evenly

— Massage lightly to enhance absorption

Capacity: 8.5oz / 250ml

Made in: South Korea

Ingredients
Rice, Sophora Japonica Extract, Ceramide
Questions and answers of the customers
There are no answers for this question yet.

Answer now
Only registered users are eligible to enter questions
The brand is the baby and kids' skincare line of the baby products company — Zero to Seven. Meaning Royal Secret Recipe, Goongbe inherited the formula of the special bathwater the Joseon royal family prepared for the King's first newborn. It simplified and enhanced the Natural Herb Therapy that strengthens the skin barrier function. The skincare line gives your baby the premium care, which used to belong only to the royal prince.
More Goongbe products at [Goongbe Online Store Page]
6% OFF On

 Use Code: SK2FEVER

 

6% OFF On

 Use Code: HIFU20



 All of our products are 100% authentic

 Guaranteed lowest price

 Why buy from TofuSecret?
TofuSecret guarantees a low price for this great item. We promise a lower price point compared to your local drugstores, pharmacies or supermarkets.
 

The secret of K-pop celebrities' perfect skin and v-shaped face! 😱

HIFU Lifting Treatment Portable Device for Home use

Non-surgical facelift system for [Wrinkle reduction / Tightening sagging skin on the neck / Lifting the cheeks, eyebrows, and eyelids / Enhancing jawline definition / Tightening of the décolletage / Smoothing the skin]

15% OFF  Use Code: HIFU20
Not sure which of our products is right for you? Take a quiz and you'll receive personalized skin care product recommendations and advice based on your answers. Start here:
GOONGBE Moisture Lotion
What is GOONGBE Moisture Lotion?
— GOONGBE is a Korean infant skincare brand dedicated to providing different products to keep your baby's skin balanced and healthy

— This Lotion uses 100% natural extracts to soothe the baby's skin while still protecting it from external stressors

— The Tripple Moisture Protect System helps to fill intercellular lipids, triglycerides, and fatty acids for lipid moisturizing

— Its regulates the skin temperature and moisture levels, always ensuring a healthy balance

— The dermatologist-tested, non-sticky formula makes the Moisture Lotion suitable for newborn babies and little kids

It helps:
— Skin dryness
— Uneven skin texture
— Soothing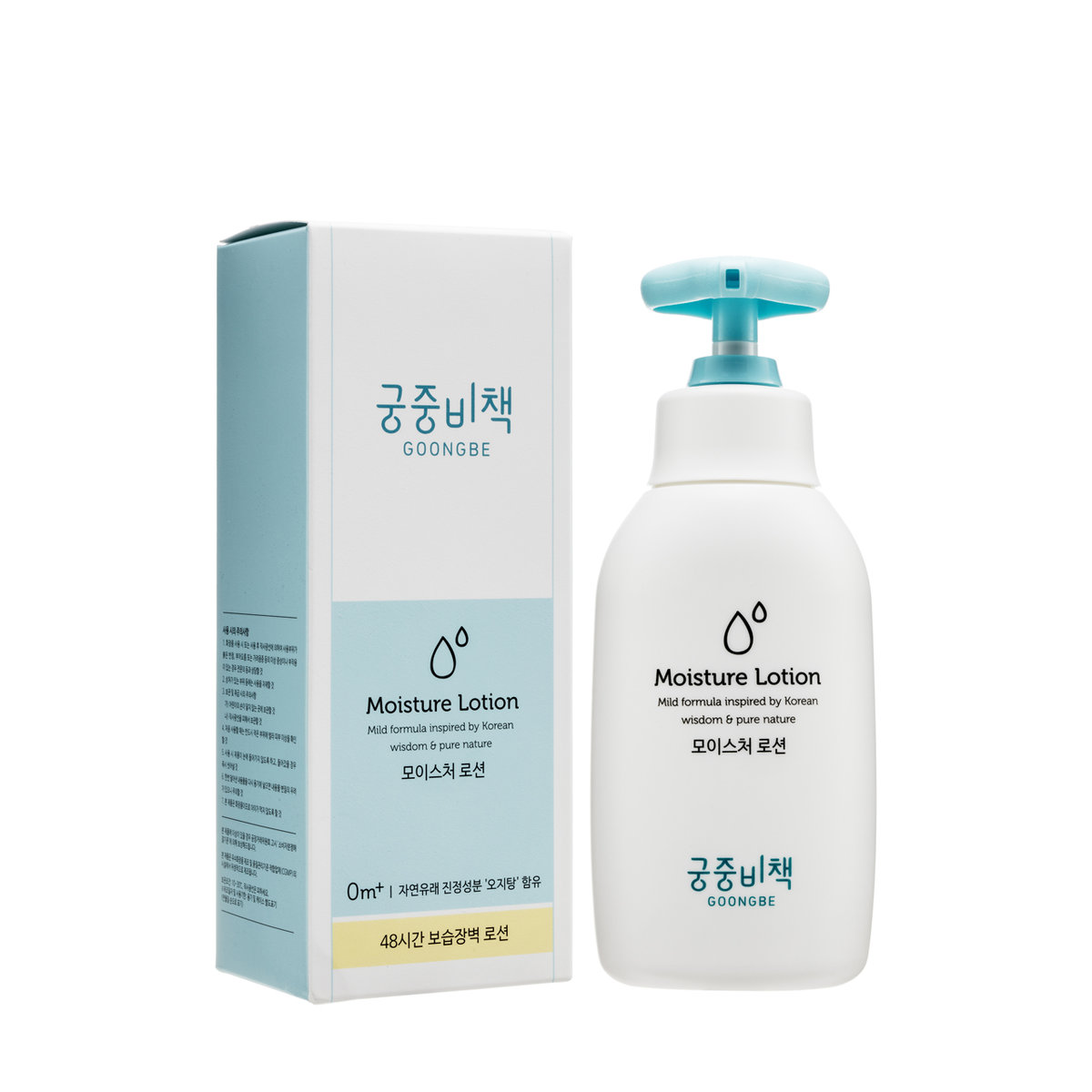 Questions and answers of the customers
There are no answers for this question yet.

Answer now
Only registered users are eligible to enter questions
Related Products
Sale!

Anti-Aging, Basic Care (Laneige), Brands, Dry Skin, Dull Skin, Korean Skin Care, Laneige, Pores, Prime Products, Shop by Concern, Skin Care, Skin care Sets, Sleeping Mask (Laneige), Uneven Skin Texture, Value Set (Laneige), Water Bank (Laneige), Wrinkles

US$

79.90 Purchase This Item And Earn 67 points!




5 Items

Anti-Aging, Brands, Damaged Skin, Dry Skin, Dull Skin, Korean Skin Care, Laneige, Masks, Prime Products, Shop by Concern, Skin Care, Sleeping Mask (Laneige), Sleeping Masks, The Best Skincare Awards, Uneven Skin Texture, Wash Off Face Masks, Wrinkles

US$

0.84 –

US$

1.20Purchase This Item And Earn up to 33 points.




2.37oz / 70ml, 3.4oz / 100ml