Innisfree Jeju Orchid Sleeping Mask
Discount per Quantity
Quantity
2
3 - 4
5 - 8
9 +
Price

US$

0.75

US$

0.75

US$

0.74

US$

0.73
SKU: INNI50006 - Need Help? Contact Us Leave Feedback
Categories: Anti-Aging, Brands, Dry Skin, Innisfree, Korean Skin Care, Masks, Orchid (Innisfree), Prime Products, Sagging Skin, Shop by Concern, Skin Care, Sleeping Masks, Uneven Skin Texture, Wash Off Face Masks
Contact Us
Please find the Live Chat Box at the bottom right corner. We're ready to help 18 hours a day, 7 days a week. Please send us a message if we're not available to attend to you. Email:
[email protected]
Call customer services on +852 3618 5855 (HK)
DescriptionHow toIngredientsQ&Athe BrandShipping
Jeju Orchid Sleeping Mask
Which skin type is it good for?
* Dry
* Oily
* Combination
* Sensitive
* Normal
What it is:

– This nourishing Overnight Mask is formulated with Jeju Orchid which helps to nourish and firm your facial skin while you sleep
– The Jeju Orchid flower has strong antioxidant powers which work to enhance your skin's resilience and boost the Mask's anti-aging function
– This early-action Overnight Mask brightens your skin tone while refining the texture so that your skin looks suppler and healthier in the morning
– The Hyaluronic acid ingredient delivers intense moisture to the skin while Lavender Oil provides essential care to overly tired skin
– Its thick, nutritious texture seeps deep into the skin layers for maximum effectiveness throughout the night
It helps:
– Skin dryness
– Uneven skin texture
– Anti-aging
– Sagging skin
TofuSecret guarantees a low price for this great Innisfree skincare item. We promise a lower price point compared to your local drugstores, pharmacies, or supermarkets.
Are you a fan of Innisfree products? Please check out Innisfree for all quality Innisfree products at TofuSecret.
– Use the Mask as the last step of your skincare routine; just before you go to bed
– Apply an appropriate amount onto your face while avoiding the eyes and lip areas
– Leave it overnight and wash your face with lukewarm water in the morning
Capacity: 2.71oz / 80ml

Made in: Korea
Ingredients
Water / Aqua / EAU, Cyclopentasiloxane, Propanediol, Cyclohexasiloxane, Glycerin, Dimethicone, Betaine, PEG-10 Dimethicone, Niacinamide, Polymethylsilsesquioxane, Dimethicone/Vinyl Dimethicone Crosspolymer, Sodium Chloride, Dimethiconol, Glyceryl Caprylate, Caprylic/Capric Triglyceride, Fragrance / Parfum, Disodium EDTA, Ethylhexylglycerin, Adenosine, Dextrin, Theobroma Cacao (Cocoa) Extract, Hyaluronic Acid, Glucose, Orchid Extract, Rosa Canina Flower Oil, Citrus Aurantium Dulcis (Orange) Oil, Lavandula Angustifolia (Lavender) Oil, Tocopherol
Questions and answers of the customers
There are no answers for this question yet.

Answer now
Only registered users are eligible to enter questions
From the time the flowers are blossoming, up until when you're applying the Moisturizing Lotion on your face, Innisfree's products induce the rich benefits of nature to your skin.
The brand's eco-friendly approach enhances sustainability by satisfying all your senses while keeping nature healthy. This impeccable harmony between green nature and youthful beauty makes it popular in Korea as well as other countries across Asia.
More Innisfree products at [Innisfree Flagship Online Store Page]
6% OFF On

 Use Code: SK2FEVER

 

6% OFF On

 Use Code: HIFU20



 All of our products are 100% authentic

 Guaranteed lowest price

 Why buy from TofuSecret?
TofuSecret guarantees a low price for this great item. We promise a lower price point compared to your local drugstores, pharmacies or supermarkets.
 

The secret of K-pop celebrities' perfect skin and v-shaped face! 😱

HIFU Lifting Treatment Portable Device for Home use

Non-surgical facelift system for [Wrinkle reduction / Tightening sagging skin on the neck / Lifting the cheeks, eyebrows, and eyelids / Enhancing jawline definition / Tightening of the décolletage / Smoothing the skin]

15% OFF  Use Code: HIFU20
Not sure which of our products is right for you? Take a quiz and you'll receive personalized skin care product recommendations and advice based on your answers. Start here:
Innisfree Jeju Orchid Sleeping Mask
What is Innisfree Jeju Orchid Sleeping Mask?

– This nourishing Overnight Mask is formulated with Jeju Orchid which helps to nourish and firm your facial skin while you sleep
– The Jeju Orchid flower has strong antioxidant powers which work to enhance your skin's resilience and boost the Mask's anti-aging function
– This early-action Overnight Mask brightens your skin tone while refining the texture so that your skin looks suppler and healthier in the morning
– The Hyaluronic acid ingredient delivers intense moisture to the skin while Lavender Oil provides essential care to overly tired skin
– Its thick, nutritious texture seeps deep into the skin layers for maximum effectiveness throughout the night
It helps:
– Skin dryness
– Uneven skin texture
– Anti-aging
– Sagging skin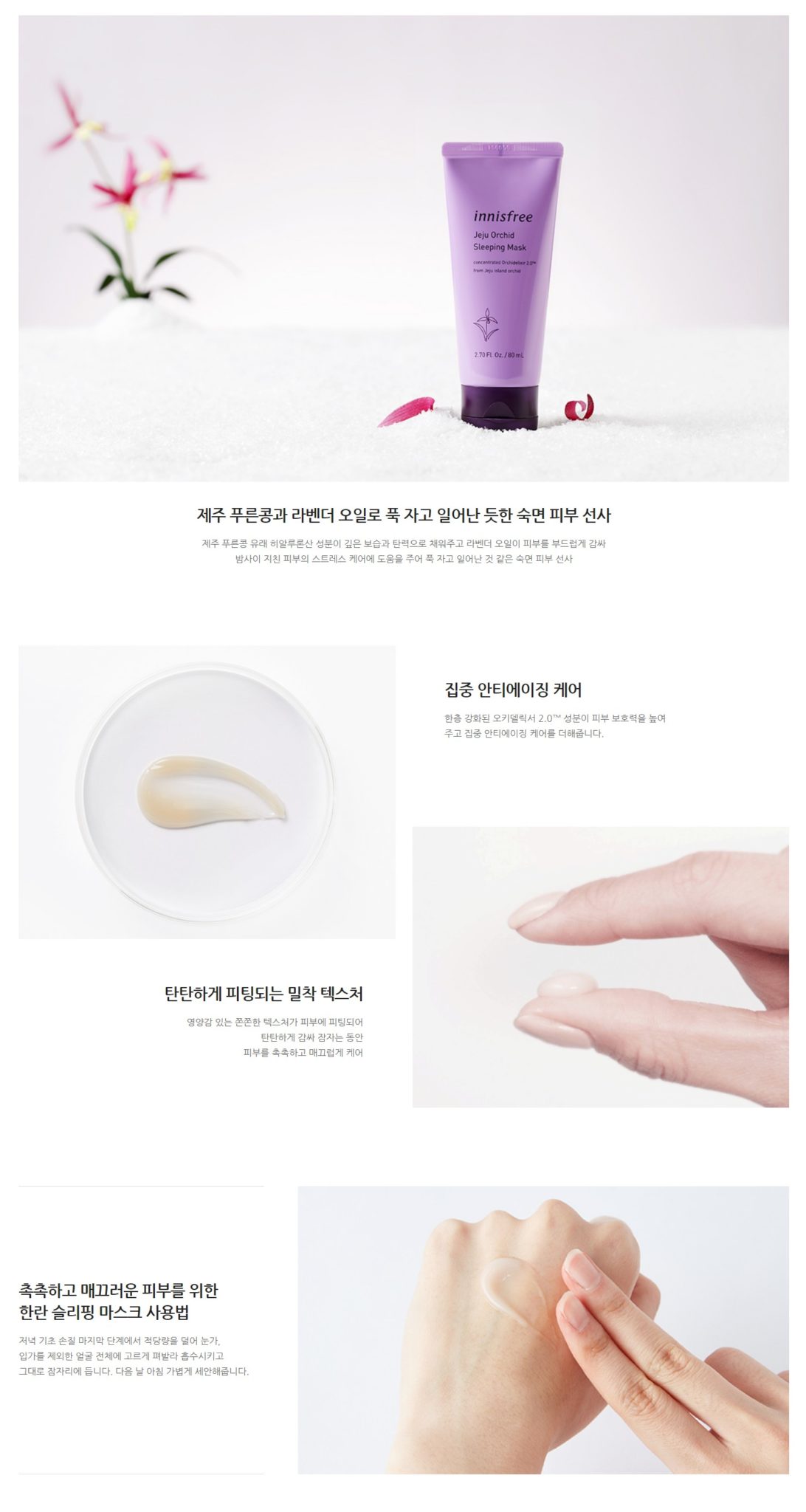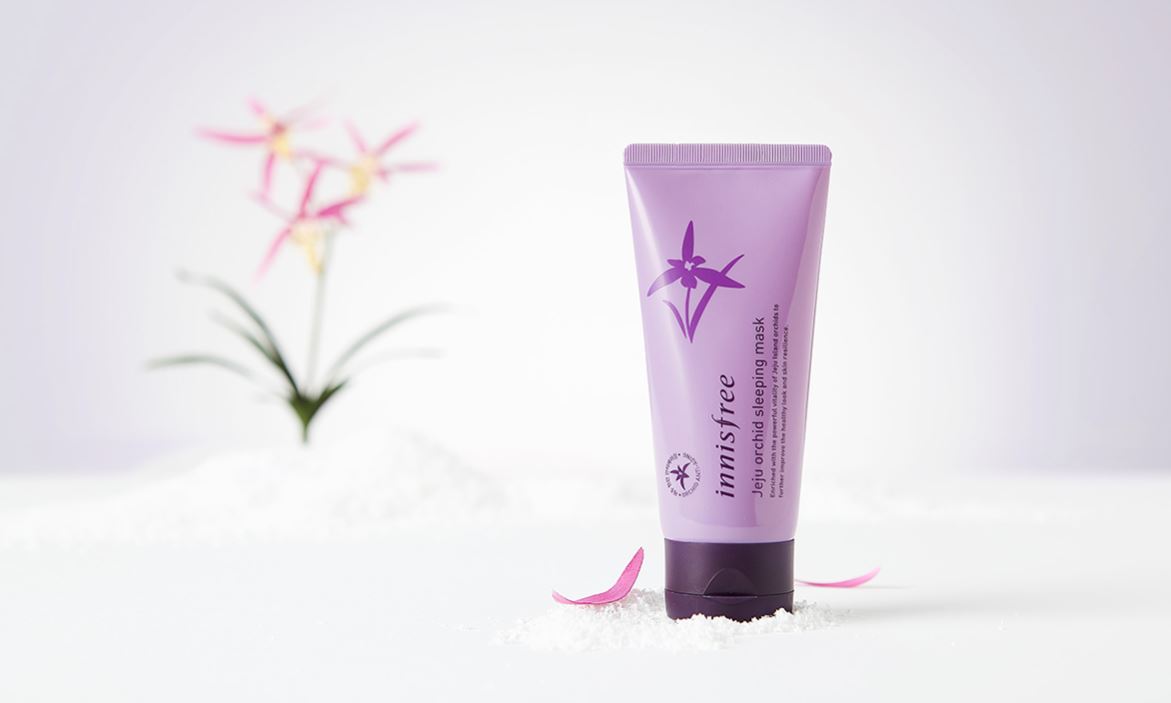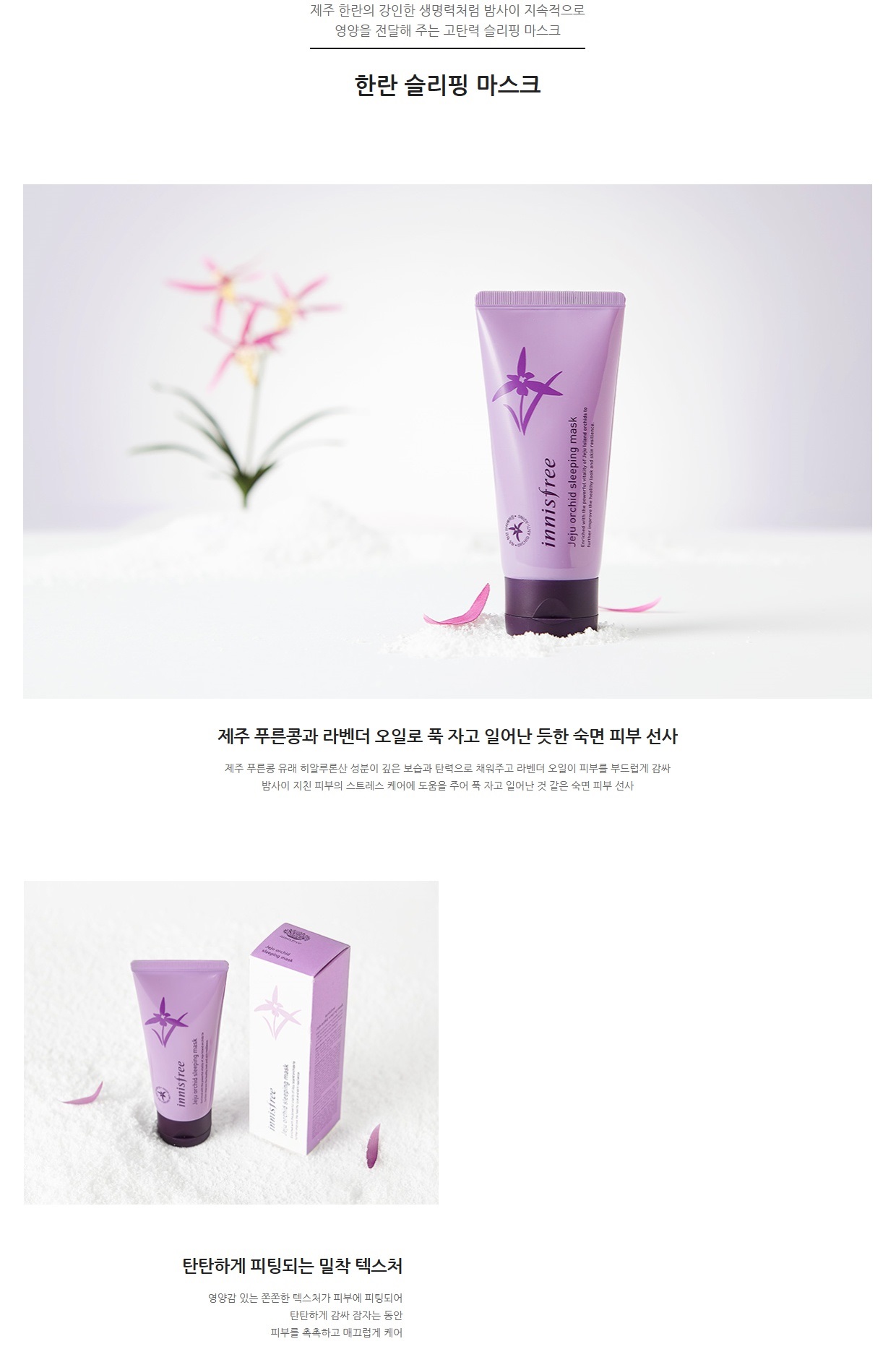 Questions and answers of the customers
There are no answers for this question yet.

Answer now
Only registered users are eligible to enter questions
Related Products
Sale!

Anti-Aging, Brands, Day Cream, Dry Skin, Dull Skin, Face Moisturizers, Korean Skin Care, Laneige, Moisturizers, Night Cream, Prime Products, Shop by Concern, Skin Care, Water Bank (Laneige), Wrinkles

US$

45.23 Purchase This Item And Earn 34 points!




1.69oz / 50ml

Sale!

Brands, Dry Skin, Dull Skin, Essence, Face Moisturizers, Korean Skin Care, Laneige, Moisturizers, Prime Products, Shop by Concern, Skin Care, Uneven Skin Texture, Water Bank (Laneige), Wrinkles

US$

40.82 Purchase This Item And Earn 35 points!




2.37oz / 70ml

Basic Care (Laneige), Brands, Damaged Skin, Dry Skin, Korean Skin Care, Laneige, Prime Products, Shop by Concern, Skin Care, Skin care Sets, Sleeping Mask (Laneige), Uneven Skin Texture, Value Set (Laneige), Water Bank (Laneige), Wrinkles

US$

57.81Purchase This Item And Earn 57 points!




5 Items