Kanebo Freeplus Moist Care Lotion I
Discount per Quantity
Quantity
2
3 - 4
5 - 8
9 +
Price

US$

1.71

US$

1.69

US$

1.68

US$

1.66
SKU: KANE20005 - Need Help? Contact Us Leave Feedback
Categories: Brands, Dry Skin, Japanese Skin Care, Kanebo, Pores, Prime Products, Shop by Concern, Skin Care, Toners, Uneven Skin Texture
Contact Us
Please find the Live Chat Box at the bottom right corner. We're ready to help 18 hours a day, 7 days a week. Please send us a message if we're not available to attend to you. Email:
[email protected]
Call customer services on +852 3618 5855 (HK)
DescriptionHow toIngredientsQ&Athe BrandShipping
Freeplus Moist Care Lotion I
Which skin type is it good for?
* Dry
* Sensitive

What it is:
— This moisturizing Toner uses herbal extracts to rehydrate the skin while strengthening the moisture barrier for a plump, smooth complexion

— The moisturizing ingredients penetrate into the skin core so that the glow and rebuild can start from the inside

— It freshens the skin and refines the pores after Cleansing, making it more receptive to follow-up skincare products
— The mild, weak acidic formula is free of Parabens, Mineral Oil, Alcohol, Colorants, UV absorbers, Fragrances

It helps:
— Skin dryness
— Pores
— Uneven skin texture
TofuSecret guarantees a low price for this great Kanebo skincare item. We promise a lower price point compared to your local drugstores, pharmacies, or supermarkets.
Are you a fan of Kanebo products? Please check out Kanebo for all quality Kanebo products at TofuSecret.
How to:
— Use after Cleansing your skin

— Apply an appropriate amount and spread evenly over your face

—  Gently massage in circular motions until it's completely absorbed

Capacity: 4.4oz / 130ml

Made in: Japan

Ingredients
Water, Dipropylene Glycol, 1,3-Butylene Glycol, Glycerin, Diglycerin, Niacinamide, Sodium Citrate, Citric Acid, Ethyl Glucoside, Methylserine, Taisho Extract, Neem Extract, Chimpanzee Extract, Licorice Leaf Extract, Toungin Extract, Citrus Extract, Edetate, Phenoxyethanol
Questions and answers of the customers
There are no answers for this question yet.

Answer now
Only registered users are eligible to enter questions
The motto of Kanebo is "Feel Your Beauty", which is realized by three key qualities – Products that give pleasure to the senses, Counseling with sincerity, and Brands that brighten your beauty. Working with in-store counseling services, the brand helps you realize your individual beauty and radiance with products and brands that work the best for you.
The SUISAI skincare series is a series of four cleansing products, among which Beauty Clear Powder, the enzyme facial cleansing powder, has been the most popular one. The series is a solution to rough and oily skins with clogged pores.
More Kanebo products at [Kanebo Online Store Page]
6% OFF On

 Use Code: SK2FEVER

 

6% OFF On

 Use Code: HIFU20



 All of our products are 100% authentic

 Guaranteed lowest price

 Why buy from TofuSecret?
TofuSecret guarantees a low price for this great item. We promise a lower price point compared to your local drugstores, pharmacies or supermarkets.
 

The secret of K-pop celebrities' perfect skin and v-shaped face! 😱

HIFU Lifting Treatment Portable Device for Home use

Non-surgical facelift system for [Wrinkle reduction / Tightening sagging skin on the neck / Lifting the cheeks, eyebrows, and eyelids / Enhancing jawline definition / Tightening of the décolletage / Smoothing the skin]

15% OFF  Use Code: HIFU20
Not sure which of our products is right for you? Take a quiz and you'll receive personalized skin care product recommendations and advice based on your answers. Start here:
Kanebo Freeplus Moist Care Lotion I
What is Kanebo Freeplus Moist Care Lotion I?
— This moisturizing Toner uses herbal extracts to rehydrate the skin while strengthening the moisture barrier for a plump, smooth complexion

— The moisturizing ingredients penetrate into the skin core so that the glow and rebuild can start from the inside

— It freshens the skin and refines the pores after Cleansing, making it more receptive to follow-up skincare products
— The mild, weak acidic formula is free of Parabens, Mineral Oil, Alcohol, Colorants, UV absorbers, Fragrances

It helps:
— Skin dryness
— Pores
— Uneven skin texture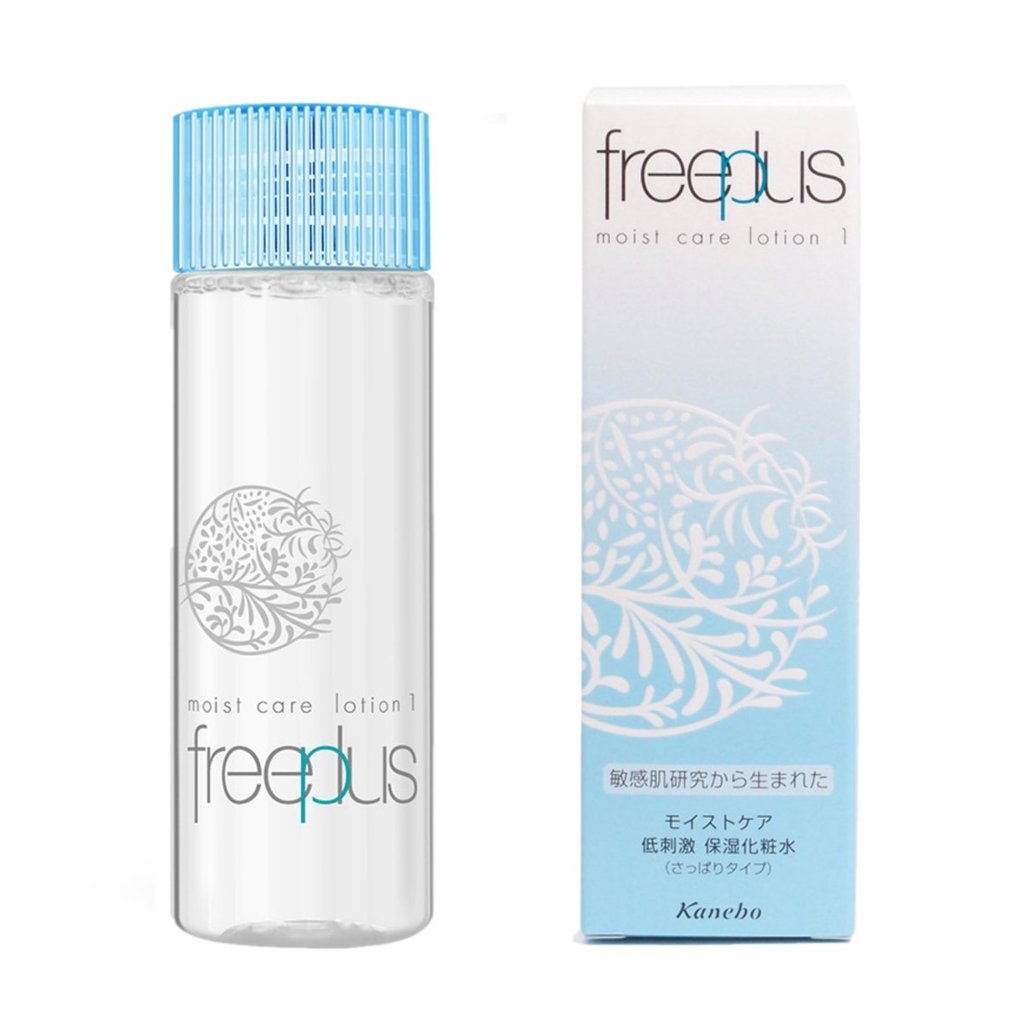 Questions and answers of the customers
There are no answers for this question yet.

Answer now
Only registered users are eligible to enter questions
Related Products
Sale!

Basic Care (Laneige), Brands, Dry Skin, Dull Skin, Face Moisturizers, Korean Skin Care, Laneige, Moisturizers, Prime Products, Shop by Concern, Skin Care

US$

40.00 Purchase This Item And Earn 31 points!




4.06oz / 120ml

Sale!

Brands, Dry Skin, Dull Skin, Essence, Face Moisturizers, Korean Skin Care, Laneige, Moisturizers, Prime Products, Shop by Concern, Skin Care, Uneven Skin Texture, Water Bank (Laneige), Wrinkles

US$

40.82 Purchase This Item And Earn 35 points!




2.37oz / 70ml