Mandom – Bifesta Barrier Repair Facial Mask Whitening
Discount per Quantity
Quantity
2
3 - 4
5 - 8
9 +
Price

US$

0.43

US$

0.43

US$

0.42

US$

0.42
SKU: MAND50005 - Need Help? Contact Us Leave Feedback
Categories: Brands, Dry Skin, Dull Skin, Japanese Skin Care, Mandom, Masks, Sheet Masks, Shop by Concern, Skin Care, Uneven Skin Texture, Whitening
Contact Us
Please find the Live Chat Box at the bottom right corner. We're ready to help 18 hours a day, 7 days a week. Please send us a message if we're not available to attend to you. Email:
[email protected]
Call customer services on +852 3618 5855 (HK)
DescriptionHow toIngredientsQ&Athe BrandShipping
Barrier Repair Facial Mask Whitening
Which skin type is it good for?
* Dry
* Oily
* Combination
* Sensitive
* Normal
What it is:

– This Japanese Cotton Sheet Mask is formulated with Paeonia Suffruticosa Extract which works to deliver moisture into the skin while improving its clarity and brightness
– Its lightweight, Vitamin C-rich formula penetrates into the skin quickly to restore and strengthen the moisture barrier
– Baby Water Lipids protect the skin from external irritants while preventing water loss via evaporation
– It also contains Soy Extract which effectively moisturizes the skin to restore its elasticity and improve texture
– The Mask's multi-layered and dense structure enhances effective transfer of the Essence without dripping
– Its unique 3-dimensional pattern cut is aimed at perfectly fitting a typical female face so that every part is enriched with the Essence
It helps:
– Skin dryness
– Skin dullness
– Uneven skin texture
– Whitening
TofuSecret guarantees a low price for this great Mandom – Bifesta skincare item. We promise a lower price point compared to your local drugstores, pharmacies, or supermarkets.
Are you a fan of Mandom – Bifesta products? Please check out Mandom for all quality Mandom – Bifesta products at TofuSecret.
– Use the Mask after Cleansing
– Remove from the pouch, unfold, and gently spread it on your face
– Position the Mask using your mouth and nose before smoothing so that it fits closely to the face
– Leave it for 5-10 minutes before peeling it off
– Pat the skin lightly to enhance absorption of the remaining Essence
Capacity: 10 Pcs
Made in: Japan
Ingredients
Water, DPG, BG, Glycerin, Hydrolyzed Hyaluronic Acid, Hydroxide Lecithin, Royal Jelly Extract, Squalane, Macadamia Nut Fatty Acid Phytosteryl, Polyquaternium-51, (Glycerylamidoethyl Methacrylate, Stearyl Methacrylate) Copolymer, PEG-32, PEG-6, Sorbitol, Hydroxyethylurea, PEG-60 Hydrogenated Castor Oil, Octoxyglycerin, (Acrylate, Alkyl Acrylate (C10-30)) Crosspolymer, K Hydroxide, EDTA-2Na, Alkyl (C12, 14) Oxyhydroxy Propyl Arginine HCL, Caprylyl Glycol, Ethanol
Questions and answers of the customers
There are no answers for this question yet.

Answer now
Only registered users are eligible to enter questions
The brand has cemented its place in the ever-changing skin care industry by providing high-end cosmetics and hair care products which are formulated from body-safe and natural ingredients.  The team of experts and dermatologists use scientific research to find solutions for your everyday skin concerns. 
Apart from matching your skin care needs with the right product, Mandom employs creative advertising campaigns which involve using pop stars like Kimura Takuya and Masahairo Motoko to augment the brand's recognition.
More Mandom products at [Mandom Online Store Page]
6% OFF On

 Use Code: SK2FEVER

 

6% OFF On

 Use Code: HIFU20



 All of our products are 100% authentic

 Guaranteed lowest price

 Why buy from TofuSecret?
TofuSecret guarantees a low price for this great item. We promise a lower price point compared to your local drugstores, pharmacies or supermarkets.
 

The secret of K-pop celebrities' perfect skin and v-shaped face! 😱

HIFU Lifting Treatment Portable Device for Home use

Non-surgical facelift system for [Wrinkle reduction / Tightening sagging skin on the neck / Lifting the cheeks, eyebrows, and eyelids / Enhancing jawline definition / Tightening of the décolletage / Smoothing the skin]

15% OFF  Use Code: HIFU20
Not sure which of our products is right for you? Take a quiz and you'll receive personalized skin care product recommendations and advice based on your answers. Start here:
Mandom – Bifesta Barrier Repair Facial Mask Whitening
What is Mandom – Bifesta Barrier Repair Facial Mask Whitening?

– This Japanese Cotton Sheet Mask is formulated with Paeonia Suffruticosa Extract which works to deliver moisture into the skin while improving its clarity and brightness
– Its lightweight, Vitamin C-rich formula penetrates into the skin quickly to restore and strengthen the moisture barrier
– Baby Water Lipids protect the skin from external irritants while preventing water loss via evaporation
– It also contains Soy Extract which effectively moisturizes the skin to restore its elasticity and improve texture
– The Mask's multi-layered and dense structure enhances effective transfer of the Essence without dripping
– Its unique 3-dimensional pattern cut is aimed at perfectly fitting a typical female face so that every part is enriched with the Essence
It helps:
– Skin dryness
– Skin dullness
– Uneven skin texture
– Whitening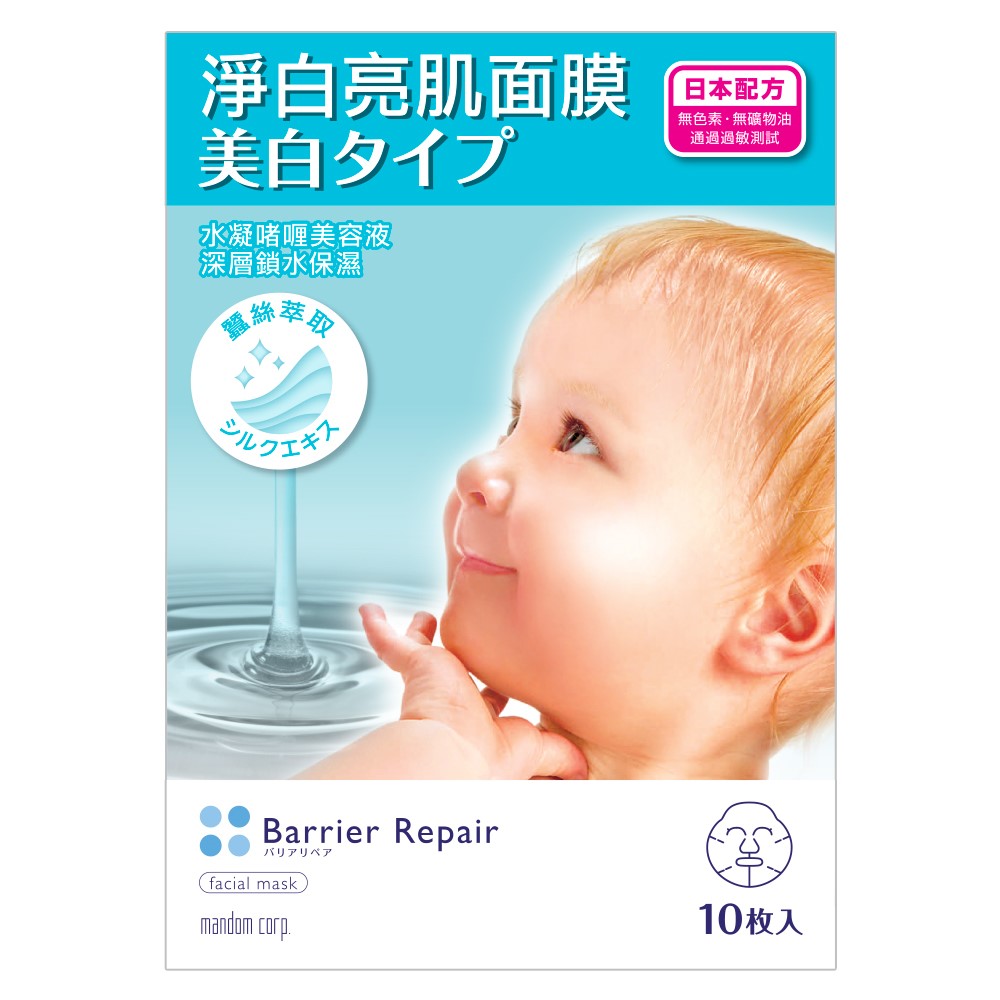 Questions and answers of the customers
There are no answers for this question yet.

Answer now
Only registered users are eligible to enter questions
Related Products
Sale!

Anti-Aging, Basic Care (Laneige), Brands, Dry Skin, Dull Skin, Korean Skin Care, Laneige, Pores, Prime Products, Shop by Concern, Skin Care, Skin care Sets, Sleeping Mask (Laneige), Uneven Skin Texture, Value Set (Laneige), Water Bank (Laneige), Wrinkles

US$

79.90 Purchase This Item And Earn 67 points!




5 Items

Sale!

Brands, Dry Skin, Essence, Face Moisturizers, Korean Skin Care, Laneige, Moisturizers, Night Cream, Perfect Renew (Laneige), Prime Products, Shop by Concern, Skin Care, Uneven Skin Texture, Wrinkles

US$

61.25 Purchase This Item And Earn 56 points!




3.4oz / 100ml