MEDI-PEEL Naite Thread Neck Cream
Discount per Quantity
Quantity
2
3 - 4
5 - 8
9 +
Price

US$

1.10

US$

1.09

US$

1.08

US$

1.06
SKU: PEEL30001 - Need Help? Contact Us Leave Feedback
Categories: Anti-Aging, Brands, Dry Skin, Korean Skin Care, MEDI-PEEL, Prime Products, Sagging Skin, Shop by Concern, Skin Care, Wrinkles
Contact Us
Please find the Live Chat Box at the bottom right corner. We're ready to help 18 hours a day, 7 days a week. Please send us a message if we're not available to attend to you. Email: hello@tofusecret.com Call customer services on +852 3618 5855 (HK)
DescriptionHow toIngredientsQ&Athe BrandShipping
Naite Thread Neck Cream
Which skin type is it good for?
* Dry
* Oily
* Combination
* Sensitive
* Normal
What it is:
– The Naite Thread Neck Cream is a luxurious skincare product that's specifically designed to nourish the often neglected neck skin
– It uses essential ingredients like Centella Asiatica Extract, Aloe Vera Leaf Juice Extract, and Sweet Almond Oil to drench the skin with moisture
– The Cream uses the French Licensed Peptide, Palm Oil Tripeptide-5, and Chamomile Extract to restore the skin's natural vitality and reduce the appearance of wrinkles and fine lines
– It also uses two variants of Collagen (Low Molecular and Hydrolyzed Collagen) to promote skin cell renewal and collagen synthesis for a firmer, youthful appearance
It helps:
– Skin dryness
– Promotes skin cell renewal
– Anti-aging care
– Provides nourishment to the neck skin
– Fine lines and wrinkles
– Sagging skin
TofuSecret guarantees a low price for this great MEDI-PEEL skincare item. We promise a lower price point compared to your local drugstores, pharmacies, or supermarkets.
Are you a fan of MEDI-PEEL products? Please check out MEDI-PEEL for all quality MEDI-PEEL products at TofuSecret.
– Use the Cream after Cleansing
– Apply an appropriate amount on the neck and massage in a circular motion to enhance absorption
Capacity: 3.4oz / 100ml
Made in: Korea
Ingredients
Purified Water, Glycerin, Hydrolyzed Collagen, Cetearyl Alcohol, Sweet Almond Oil, Niacinamide, 1,2-Hexanediol, Cyclohexasiloxane, Cyclopentasiloxane, Sodium Polyacrylate, Beeswax, Dimethicone, Carbomer, Arginine, Fragrance, Glyceryl Stearate, Hydrogenated Lecithin, Hydrolyzed Elastin, Adenosine, Sodium Iodide, RH-Polypeptide-1, RH-Oligopeptide-2, C13-14 Isoparaffin, Pasque Flower, Palmitoyl Tripeptide-5, Palmitoyl Dipeptide-5 Diaminobutyroyl Hydroxythreonine, Chamomile, Acetyl Octapeptide-3, Aloe Vera, Centella Asiatica Extract, Lavender Flower Extract, Dextran, Green Tea, Supernatant Edanoate, Polyglyceryl Stearate, Clophenethine, Dipeptide Diaminobutyloyl Benzyl Amide Diacetate, RH-Polypeptide-4, RH-Polypeptide-16, Lorca Peptide-1, R-Spider Polypeptide-1, Wu Called Les -7, Tetra-1-Aminobutyloyl-Reylaminobutyrate Urea Trifluoroacetate, Superfine Fruit Extract
Questions and answers of the customers
Only registered users are eligible to enter questions
From creams and peeling solutions to ampoules and cleansers, MEDI-PEEL boasts of using rare ingredients like snail filtrate, 24k gold, Syn-Ake, among others. 
The brand has maintained high standards of quality and safety over the years and won over the hearts of numerous beauty lovers. Some of the best sellers include the Vegetable Bunny Face Mask, the Bubble Purifying Foaming Cleanser, and the Starting Treatment Essence Mask Sheet.
More MEDI-PEEL products at [MEDI-PEEL Online Store Page]
6% OFF On

 Use Code: SK2FEVER

 

6% OFF On

 Use Code: HIFU20



 All of our products are 100% authentic

 Guaranteed lowest price

 Why buy from TofuSecret?
TofuSecret guarantees a low price for this great item. We promise a lower price point compared to your local drugstores, pharmacies or supermarkets.
 

The secret of K-pop celebrities' perfect skin and v-shaped face! 😱

HIFU Lifting Treatment Portable Device for Home use

Non-surgical facelift system for [Wrinkle reduction / Tightening sagging skin on the neck / Lifting the cheeks, eyebrows, and eyelids / Enhancing jawline definition / Tightening of the décolletage / Smoothing the skin]

15% OFF  Use Code: HIFU20
Not sure which of our products is right for you? Take a quiz and you'll receive personalized skin care product recommendations and advice based on your answers. Start here:
MEDI-PEEL Naite Thread Neck Cream
What is MEDI-PEEL Naite Thread Neck Cream?
– The Naite Thread Neck Cream is a luxurious skincare product that's specifically designed to nourish the often neglected neck skin
– It uses essential ingredients like Centella Asiatica Extract, Aloe Vera Leaf Juice Extract, and Sweet Almond Oil to drench the skin with moisture
– The Cream uses the French Licensed Peptide, Palm Oil Tripeptide-5, and Chamomile Extract to restore the skin's natural vitality and reduce the appearance of wrinkles and fine lines
– It also uses two variants of Collagen (Low Molecular and Hydrolyzed Collagen) to promote skin cell renewal and collagen synthesis for a firmer, youthful appearance
It helps:
– Skin dryness
– Promotes skin cell renewal
– Anti-aging care
– Provides nourishment to the neck skin
– Fine lines and wrinkles
– Sagging skin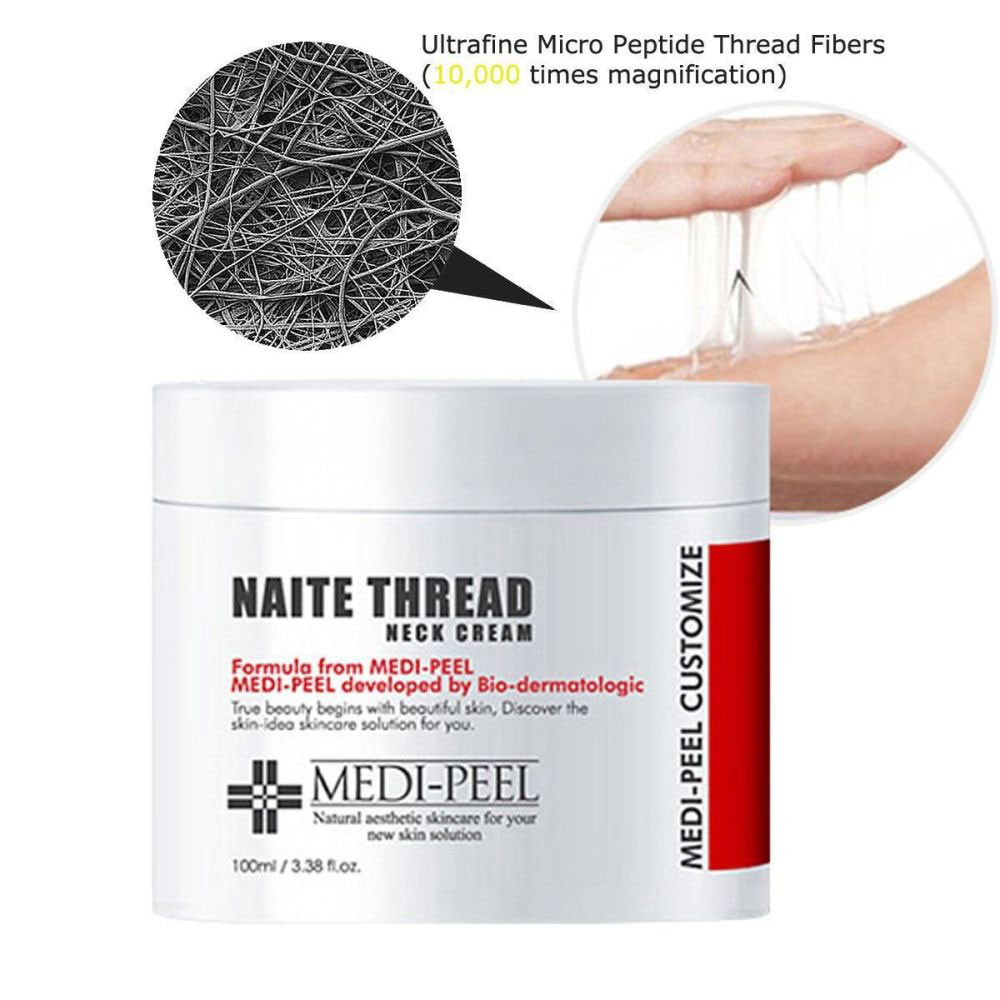 Questions and answers of the customers
Only registered users are eligible to enter questions
Related Products
Sale!

Brands, Dry Skin, Korean Skin Care, Laneige, Lip Balms & Treatments, Masks, Prime Products, Shop by Concern, Skin Care, Sleeping Mask (Laneige), Sleeping Masks, The Best Skincare Awards, Wash Off Face Masks, Wrinkles

US$

0.58 –

US$

0.76Purchase This Item And Earn up to 21 points.




0.71oz / 20g

Sale!

Anti-Aging, Brands, Dry Skin, Dull Skin, Essence, Face Moisturizers, Korean Skin Care, Laneige, Moisturizers, Prime Products, Shop by Concern, Skin Care, Uneven Skin Texture, Water Bank (Laneige), Wrinkles

US$

55.00 Purchase This Item And Earn 44 points!




2.37oz / 70ml