MINON Amino Moist Charge Lotion II
Discount per Quantity
Quantity
2
3 - 4
5 - 8
9 +
Price

US$

1.19

US$

1.18

US$

1.17

US$

1.16
SKU: MINO20002 - Need Help? Contact Us Leave Feedback
Categories: Brands, Dry Skin, Japanese Skin Care, MINON, Pores, Prime Products, Shop by Concern, Skin Care, Toners, Uneven Skin Texture
Contact Us
Please find the Live Chat Box at the bottom right corner. We're ready to help 18 hours a day, 7 days a week. Please send us a message if we're not available to attend to you. Email:
[email protected]
Call customer services on +852 3618 5855 (HK)
DescriptionHow toIngredientsQ&Athe BrandShipping
Amino Moist Charge Lotion II
Which skin type is it good for?
* Dry
* Oily
* Combination
* Sensitive
* Normal
What it is:
— Amino Moist Charge Lotion II quickly penetrates the skin to reduce the size of enlarged pores and promote a more refined, smooth texture

— It actively moisturizes the skin and strengthens the natural barrier to discourage water loss and promote long-lasting suppleness

— The 9 Amino Acids and Hyaluronic Acid ingredients improve its moisturizing power and make it more suitable for dry skin

— Its smooth texture revives the skin and improves its moisture retention capacity and firmness for long-lasting suppleness
— The low-irritant formula is free of Alcohol, Fragrance, Colorants, and Paraben
Amino Moist Charge Lotion II is 'moister' than Amino Moist Charge Lotion I
It helps:
— Skin dryness
— Uneven skin texture
— Pores
TofuSecret guarantees a low price for this great MINON skincare item. We promise a lower price point compared to your local drugstores, pharmacies, or supermarkets.
Are you a fan of MINON products? Please check out MINON for all quality MINON products at TofuSecret.
How to:
— Use the Toner after Cleansing your skin

— When using for the first time, press the pump continuously until the product is dispensed
— Squeeze 3-5 pumps on your palm and spread evenly over the face

— Massage gently in circular motions to enhance absorption
Capacity: 5.07oz / 150ml

Made in: Japan

Ingredients
Water, Glycerin, BG, Propanediol, Methyl Glucose-20, PEG-75, Serine, Xanthan Gum, Betaine, PEG-50 Hydrogenated Castor Oil Triisostearate, Sodium Citrate, Sodium Citrate, 2K Glycyrrhizinate, Lauroyl Glutamate Di (Phytosteryl / Octyldodecyl ), Arginine, Citric Acid, PEG-60 Hydrogenated Castor Oil, Tocopherol, Ceteth-20, PCA-Na, Alanine, Lysine Hcl, Cocoyl Arginine Ethyl PCA, Glycine, Threonine, Valine, Histidine, Proline, Leucine, Pentetetic Acid 5Na , Carnosine, Polyquaternium-61, 1,2-Hexanediol, Hydrogenated Lecithin, Polyglyceryl Laurate-10, Sodium Hyaluronate, Phenoxyethanol, Hydrolyzed Hyaluronic Acid
Questions and answers of the customers
Only registered users are eligible to enter questions
MINON applies a low irritant formula of 11 amino acids to provide double benefits. The 9 types of moisture-retaining amino acids help achieve effective skin maintenance by improving the skin's barrier function and maintaining a healthy water-oil balance. The 2 types of purifying amino acids help achieve smooth-textured, resilient, and radiant skin.
Free from fragrance, coloring, alcohol, and Paraben, the AminoMoist series passes the Stinging Test, Allergy Test, and Patch Test. To tackle seasonal sensitive skin, use Moist Charge Lotion II, followed by Moist Essential Mask and Moist Charge Milk, to enjoy the most of the season.
More MINON products at [MINON Online Store Page]
6% OFF On

 Use Code: SK2FEVER

 

6% OFF On

 Use Code: HIFU20



 All of our products are 100% authentic

 Guaranteed lowest price

 Why buy from TofuSecret?
TofuSecret guarantees a low price for this great item. We promise a lower price point compared to your local drugstores, pharmacies or supermarkets.
 

The secret of K-pop celebrities' perfect skin and v-shaped face! 😱

HIFU Lifting Treatment Portable Device for Home use

Non-surgical facelift system for [Wrinkle reduction / Tightening sagging skin on the neck / Lifting the cheeks, eyebrows, and eyelids / Enhancing jawline definition / Tightening of the décolletage / Smoothing the skin]

15% OFF  Use Code: HIFU20
Not sure which of our products is right for you? Take a quiz and you'll receive personalized skin care product recommendations and advice based on your answers. Start here:
MINON Amino Moist Charge Lotion II
What is MINON Amino Moist Charge Lotion II?
— Amino Moist Charge Lotion II quickly penetrates the skin to reduce the size of enlarged pores and promote a more refined, smooth texture

— It actively moisturizes the skin and strengthens the natural barrier to discourage water loss and promote long-lasting suppleness

— The 9 Amino Acids and Hyaluronic Acid ingredients improve its moisturizing power and make it more suitable for dry skin

— Its smooth texture revives the skin and improves its moisture retention capacity and firmness for long-lasting suppleness
— The low-irritant formula is free of Alcohol, Fragrance, Colorants, and Paraben
Amino Moist Charge Lotion II is 'moister' than Amino Moist Charge Lotion I
It helps:
— Skin dryness
— Uneven skin texture
— Pores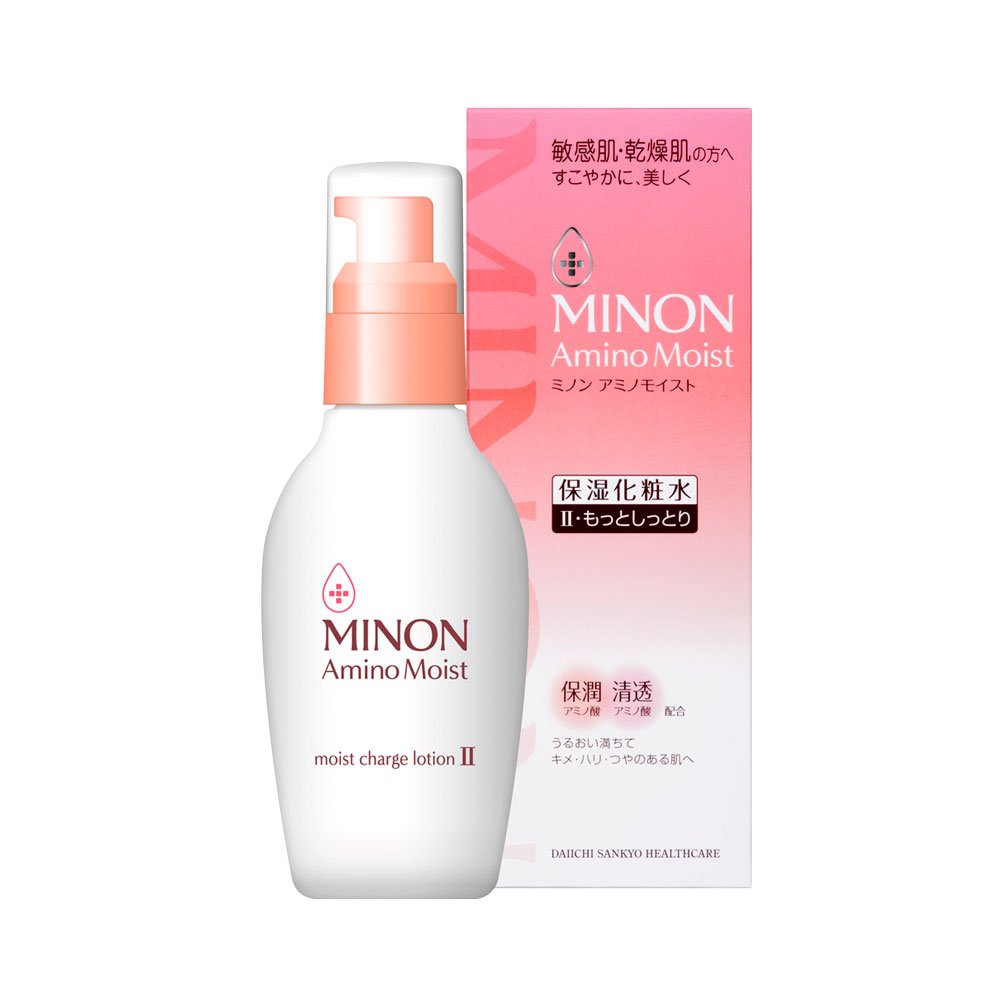 Questions and answers of the customers
Only registered users are eligible to enter questions
Related Products
Basic Care (Laneige), Brands, Damaged Skin, Dry Skin, Korean Skin Care, Laneige, Prime Products, Shop by Concern, Skin Care, Skin care Sets, Sleeping Mask (Laneige), Uneven Skin Texture, Value Set (Laneige), Water Bank (Laneige), Wrinkles

US$

57.81Purchase This Item And Earn 57 points!




5 Items