NEOGEN Dermalogy Real Ferment Micro Serum
Discount per Quantity
Quantity
2
3 - 4
5 - 8
9 +
Price

US$

1.22

US$

1.21

US$

1.20

US$

1.18
In stock
SKU: NEOG30002 - Need Help? Contact Us Leave Feedback
Categories: Anti-Aging, Brands, Dry Skin, Dull Skin, Hidden Treasures, Intensive Care, Korean Skin Care, NEOGEN, Prime Products, Sagging Skin, Serum, Shop by Concern, Skin Care, Uneven Skin Texture
Contact Us
Please find the Live Chat Box at the bottom right corner. We're ready to help 18 hours a day, 7 days a week. Please send us a message if we're not available to attend to you. Email:
[email protected]
Call customer services on +852 3618 5855 (HK)
DescriptionHow toIngredientsQ&Athe BrandShipping
Dermalogy Real Ferment Micro Serum
Which skin type is it good for?
* Dry
* Oily
* Combination
* Sensitive
* Normal
What it is:
— This intensive gel-type Serum uses Vitamin C, Vitamin E, and Vitamin B5 to restore natural elasticity and firmness

— Active ingredients like panthenol and collagen hydrate the skin while reinforcing the moisture barrier to promote long-lasting suppleness

— The fermented micro serum improves the skin's firmness and brightness, leaving you with a smoother, youthful-looking complexion
It helps:
— Skin dryness

— Skin dullness
— Uneven skin texture
— Oil control
— Anti-aging
— Sagging skin
Featured on 
TofuSecret guarantees a low price for this great NEOGEN skincare item. We promise a lower price point compared to your local drugstores, pharmacies, or supermarkets.
Are you a fan of NEOGEN products? Please check out NEOGEN for all quality NEOGEN products at TofuSecret.
How to:
— Use the Serum after your Essence when your skin is still damp

— Pump a moderate amount on your fingers and gently smooth over skin

— Pat lightly for better absorption

Capacity: 1.01oz / 30ml

Made in: South Korea

Ingredients
Bifida Ferment Lysate, Saccharomyces Ferment Filtrate, Betula Alba Juice, Butylene Glycol, Rice Ferment Filtrate (Sake), Glycerin, Cetyl Ethylhexanoate, Caprylic/Capric Triglyceride, Aspergillus Ferment, Dimethicone, Cyclopentasiloxane, Niacinamide, Cyclohexasiloxane, Polyacrylate-13, Water, Panthenol, Dimethicone/Vinyl Dimethicone Crosspolymer, Polyisobutene, PEG-7 Glyceryl Cocoate, Camellia Sinensis Leaf Extract, Cetearyl Olivate, Sorbitan Olivate, Ethylhexylglycerin, Polysorbate 20, Sorbitan Isostearate, Lactobacillus, Xanthan Gum, Sodium Polyacrylate, Caprylyl Glycol, Adenosine, Sodium Hyaluronate, Tropolone, Centella Asiatica Extract, Pichia/Resveratrol Ferment Extract, 1,2-Hexanediol, Hydrolyzed Collagen, Glutathione, Ascorbic Acid, Ubiquinone, Thioctic Acid, Tocopherol, Phenoxyethanol, Disodium EDTA
Questions and answers of the customers
Only registered users are eligible to enter questions
Every product line was carefully prepared for distinct skin concerns to help customize your beauty regimen, according to your preferences and concerns. If you are looking at products that best fit the concept of Neo-Nature, you will run into NEOGEN Pore Tight Peeling Mousse. It is an innovative exfoliator of exclusive mousse-typed texture that captures blackheads, makeup residue, and dead skin cells within the pores.
More NEOGEN products at [NEOGEN Online Store Page]
6% OFF On

 Use Code: SK2FEVER

 

6% OFF On

 Use Code: HIFU20



 All of our products are 100% authentic

 Guaranteed lowest price

 Why buy from TofuSecret?
TofuSecret guarantees a low price for this great item. We promise a lower price point compared to your local drugstores, pharmacies or supermarkets.
 

The secret of K-pop celebrities' perfect skin and v-shaped face! 😱

HIFU Lifting Treatment Portable Device for Home use

Non-surgical facelift system for [Wrinkle reduction / Tightening sagging skin on the neck / Lifting the cheeks, eyebrows, and eyelids / Enhancing jawline definition / Tightening of the décolletage / Smoothing the skin]

15% OFF  Use Code: HIFU20
Not sure which of our products is right for you? Take a quiz and you'll receive personalized skin care product recommendations and advice based on your answers. Start here:
NEOGEN Dermalogy Real Ferment Micro Serum
What is NEOGEN Dermalogy Real Ferment Micro Serum?
— This intensive gel-type Serum uses Vitamin C, Vitamin E, and Vitamin B5 to restore natural elasticity and firmness

— Active ingredients like panthenol and collagen hydrate the skin while reinforcing the moisture barrier to promote long-lasting suppleness

— The fermented micro serum improves the skin's firmness and brightness, leaving you with a smoother, youthful-looking complexion
It helps:
— Skin dryness

— Skin dullness
— Uneven skin texture
— Oil control
— Anti-aging
— Sagging skin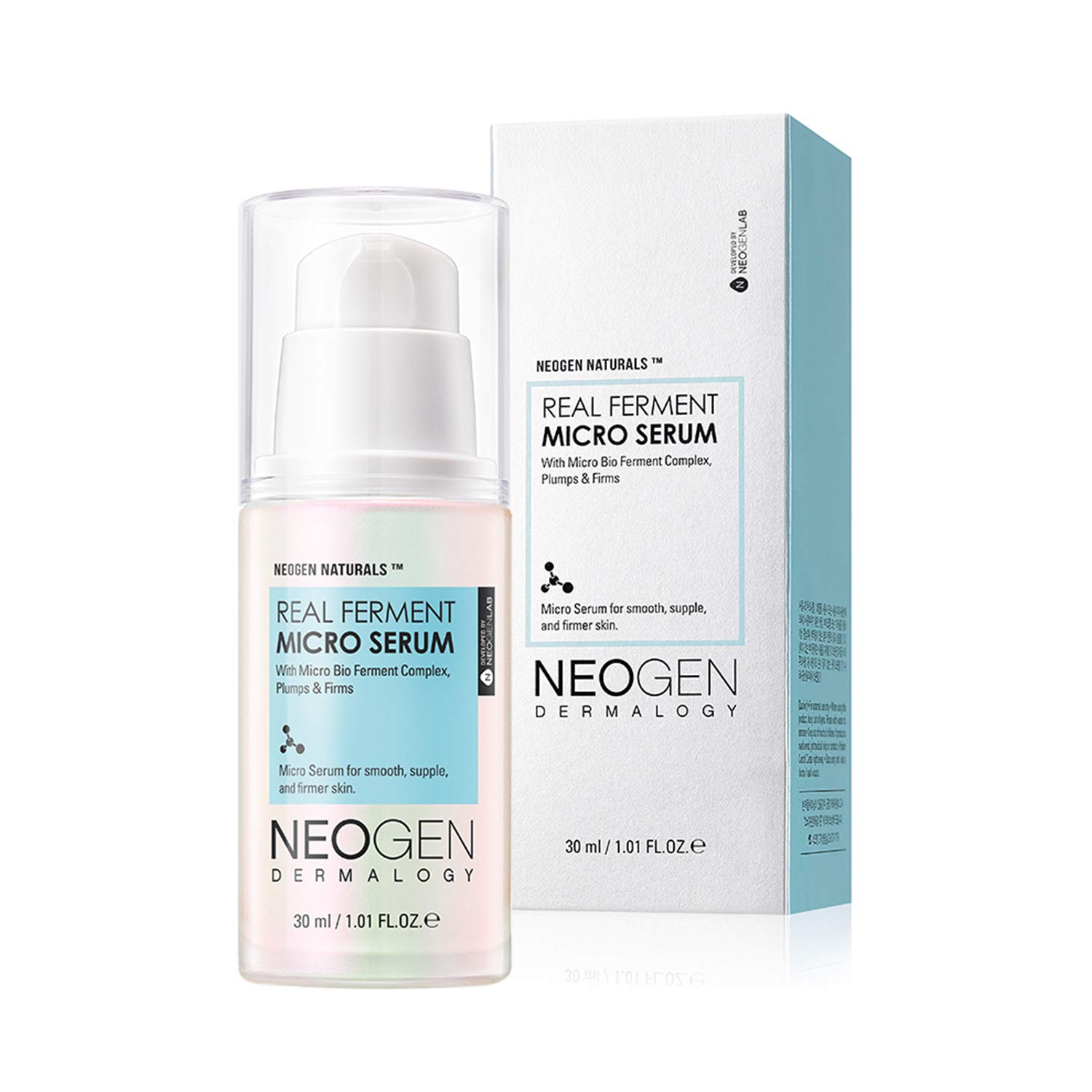 Questions and answers of the customers
Only registered users are eligible to enter questions
Related Products
Sale!

Anti-Aging, Brands, Day Cream, Dry Skin, Dull Skin, Face Moisturizers, Korean Skin Care, Laneige, Moisturizers, Night Cream, Prime Products, Shop by Concern, Skin Care, Water Bank (Laneige), Wrinkles

US$

45.23 Purchase This Item And Earn 34 points!




1.69oz / 50ml

Sale!

US$

50.00 Purchase This Item And Earn 39 points!




6.76oz / 200ml