Rosette Peeling Gel (Gommage Esthe)
Discount per Quantity
Quantity
2
3 - 4
5 - 8
9 +
Price

US$

0.30

US$

0.30

US$

0.29

US$

0.29
SKU: ROSE20001 - Need Help? Contact Us Leave Feedback
Categories: Blackhead, Brands, Cleansers, Dirt Removal, Dry Skin, Exfoliator, Peeling & Scrub, Facial Peels, Intensive Care, Japanese Skin Care, Pores, ROSETTE, Shop by Concern, Skin Care, Uneven Skin Texture
Contact Us
Please find the Live Chat Box at the bottom right corner. We're ready to help 18 hours a day, 7 days a week. Please send us a message if we're not available to attend to you. Email:
[email protected]
Call customer services on +852 3618 5855 (HK)
DescriptionHow toIngredientsQ&Athe BrandShipping
Rosette Peeling Gel (Gommage Esthe)
Which skin type is it good for?
* Dry
* Oily
* Combination
* Sensitive
* Normal
What it is:

— This lightweight Peeling Gel uses AHA ingredient to gently wipe off dead skin cells and dullness-causing dirt from the skin for a clearer, glowing complexion

— It removes existing blackheads while preventing further development to reduce the size of enlarged pores and inspire smooth, firm skin

— The gel contains natural ingredients that restore the skin's natural elasticity and diminish the appearance of wrinkles

— Its gentle, skin-friendly formula effectively removes impurities from the skin without causing dryness or irritation

— The natural fruit acids feel great on the skin and, most importantly, prepare it for follow-up skincare products
It helps:
— Skin dryness
— Uneven skin texture
— Dirt removal

— Blackheads

— Exfoliation
— Pores
— Oil control
TofuSecret guarantees a low price for this great Rosette skincare item. We promise a lower price point compared to your local drugstores, pharmacies, or supermarkets.
Are you a fan of Rosette products? Please check out Rosette for all quality Rosette products at TofuSecret.
— Use the Peeling Gel on freshly cleansed, dry skin

— Squeeze a moderate amount on dry hands and gently massage on specific spots of your face

— Continue massaging in circular motions while avoiding the eye and lip areas

— Once there's no more product left on your skin, rinse well with lukewarm water
Note: Use 2-3 times a week. Do not use excessive force
Capacity: 4.23oz / 120g

Made in: Japan

Ingredients
Water, Glycerin, Steartrimonium Chloride, Alcohol, Carbomer, Allantoin, Lactic Acid, Glucose, Citric Acid, Malic Acid, Camellia Sinensis Leaf Extract, Methylparaben, Fragrance
Questions and answers of the customers
ROSETTE believes that women are like diamonds extracted from ores. After delicate refinement, women can reveal their charisma. The brand also sees that your charm builds on natural beauty. So we work hard to give you the best cleansers that tackle various skin concerns.
The best-selling cleansers support your troubled skin with only safe ingredients. Natural ingredients such as natural sulfur take good care of your skin. So you need not worry about consuming their cleansers. The multiple benefits of the cleansers support your beautiful lives.
More ROSETTE products at [ROSETTE Online Store Page]
6% OFF On

 Use Code: SK2FEVER

 

6% OFF On

 Use Code: HIFU20



 All of our products are 100% authentic

 Guaranteed lowest price

 Why buy from TofuSecret?
TofuSecret guarantees a low price for this great item. We promise a lower price point compared to your local drugstores, pharmacies or supermarkets.
 

The secret of K-pop celebrities' perfect skin and v-shaped face! 😱

HIFU Lifting Treatment Portable Device for Home use

Non-surgical facelift system for [Wrinkle reduction / Tightening sagging skin on the neck / Lifting the cheeks, eyebrows, and eyelids / Enhancing jawline definition / Tightening of the décolletage / Smoothing the skin]

15% OFF  Use Code: HIFU20
Not sure which of our products is right for you? Take a quiz and you'll receive personalized skin care product recommendations and advice based on your answers. Start here:
Rosette Peeling Gel (Gommage Esthe)
What is Rosette Peeling Gel (Gommage Esthe)?
— This lightweight Peeling Gel uses AHA ingredient to gently wipe off dead skin cells and dullness-causing dirt from the skin for a clearer, glowing complexion

— It removes existing blackheads while preventing further development to reduce the size of enlarged pores and inspire smooth, firm skin

— The gel contains natural ingredients that restore the skin's natural elasticity and diminish the appearance of wrinkles

— Its gentle, skin-friendly formula effectively removes impurities from the skin without causing dryness or irritation

— The natural fruit acids feel great on the skin and, most importantly, prepare it for follow-up skincare products
It helps:
— Skin dryness
— Uneven skin texture
— Dirt removal

— Blackheads

— Exfoliation
— Pores
— Oil control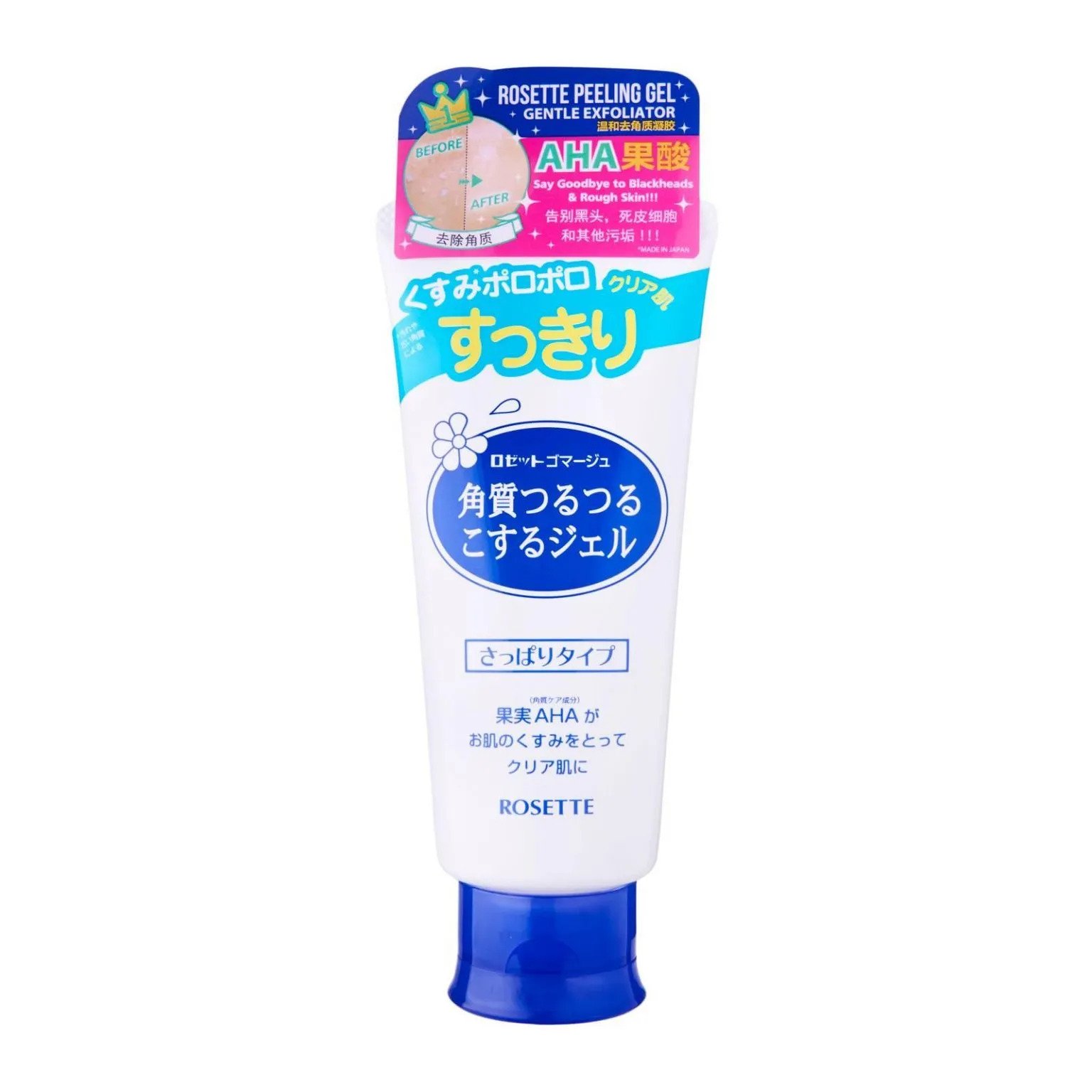 Questions and answers of the customers
Related Products
Basic Care (Laneige), Brands, Damaged Skin, Dry Skin, Korean Skin Care, Laneige, Prime Products, Shop by Concern, Skin Care, Skin care Sets, Sleeping Mask (Laneige), Uneven Skin Texture, Value Set (Laneige), Water Bank (Laneige), Wrinkles

US$

57.81Purchase This Item And Earn 57 points!




5 Items

Sale!

Brands, Dry Skin, Essence, Face Moisturizers, Korean Skin Care, Laneige, Moisturizers, Night Cream, Perfect Renew (Laneige), Prime Products, Shop by Concern, Skin Care, Uneven Skin Texture, Wrinkles

US$

61.25 Purchase This Item And Earn 56 points!




3.4oz / 100ml

Sale!

Brands, Dry Skin, Essence, Face Moisturizers, Korean Skin Care, Laneige, Moisturizers, Perfect Renew (Laneige), Prime Products, Shop by Concern, Skin Care, Toners, Uneven Skin Texture, Wrinkles

US$

45.94 Purchase This Item And Earn 39 points!




4.06oz / 120ml