SHANGPREE Phyto Essence UV Sunscreen SPF 50+ PA++++
Discount per Quantity
Quantity
2
3 - 4
5 - 8
9 +
Price

US$

0.99

US$

0.98

US$

0.97

US$

0.96
SKU: SHAN60002 - Need Help? Contact Us Leave Feedback
Categories: Brands, Dry Skin, Dull Skin, Korean Skin Care, Prime Products, SHANGPREE, Shop by Concern, Skin Care, Sun Care, Sunblock
Contact Us
Please find the Live Chat Box at the bottom right corner. We're ready to help 18 hours a day, 7 days a week. Please send us a message if we're not available to attend to you. Email:
[email protected]
Call customer services on +852 3618 5855 (HK)
DescriptionHow toIngredientsQ&Athe BrandShipping
Phyto Essence UV Sunscreen SPF 50+ PA++++
Which skin type is it good for?
* Dry
* Oily
* Combination
* Sensitive
* Normal
What it is:
— This lightweight, high-efficiency Sunscreen works to shield the skin from harmful UVA and UVB rays

— It contains several natural ingredients that serve to not only protect the skin from sun damage but also moisturize and nourish it

— The non-sticky, quick-absorbing formula spreads with ease without feeling sticky or leaving a white cast

— It's suitable for all skin types including sensitive skin
It helps:
— Skin dryness
— Skin dullness
— Sun protection
TofuSecret guarantees a low price for this great SHANGPREE skincare item. We promise a lower price point compared to your local drugstores, pharmacies, or supermarkets.
Are you a fan of SHANGPREE products? Please check out SHANGPREE for all quality SHANGPREE products at TofuSecret.
How to:
— Use at the last step of your skincare routine, before applying makeup
— Apply an appropriate amount and spread evenly over your face
— Gently massage to enhance absorption
— Repeat the same on your neck, arms, legs, and other areas where the UV protection is required
— Reapply regularly, especially after extended sun exposure and towel drying
Capacity: 2.03oz / 60ml

Made in: South Korea
Ingredients
Water, Homosalate, Dipropylene Glycol, Ethylhexyl Salicylate, Butyl Methoxydibenzoylmethane, Phenylbenzimidazole Sulfonic Acid, Silica, C12-15 Alkyl Benzoate, Methyl Methacrylate Crosspolymer, Glyceryl Stearate, Cetearyl Alcohol, Cetearyl Olivate, Octocrylene, Sorbitan Olivate, Polysorbate 60, Polyacrylate-13, Dimethicone, PEG-100 Stearate, Sodium Hydroxide, Caprylyl Glycol, Sorbitan Stearate, Polyisobutene, Ethylhexylglycerin, Flavor, Tocopheryl Acetate, Disodium EDTA, 1,2-Hexanediol, Polysorbate 20, Sorbitan Isostearate, Butylene Glycol, Centella Asiatica Extract, Aloe Barbadensis Leaf Extract, Cordyceps Sinensis Extract, Glycyrrhiza Uralensis (Licorice) Root Extract, Astragalus Membranaceus Root Extract, Ganoderma Lucidum (Mushroom) Extract, Angelica Gigas Root Extract, Ethanol, Chrysanthemum Indicum Flower Extract, Phellodendron Amurense Bark Extract, Glycine Max (Soybean) Seed Extract, Portulaca Oleracea Extract, Magnolia Liliflora Bud Extract, Camellia Sinensis Leaf Extract, Paeonia Lactiflora Extract, Rheum Palmatum Root Extract, Phenoxyethanol, Artemisia Princeps Leaf Extract, Diospyros Kaki Leaf Extract, Pueraria Lobata Root Extract), Cinnamomum Zeylanicum Bark Extract, Morus Alba Fruit Extract
Questions and answers of the customers
There are no answers for this question yet.

Answer now
Only registered users are eligible to enter questions
This spa-based South Korean skincare brand has the best cosmetology specialists and master estheticians to infuse accumulated expertise and industry know-how into their services and products. From the first customer who stepped in their small one-bed spa in 1990 to the worldwide millions enjoying their skincare products, the premium spa experience is accessible everywhere. It has garnered over 100 Beauty and Wellness awards and become a standard against which all future spa-based services and products were compared.
More SHANGPREE products at [SHANGPREE Online Store Page]
6% OFF On

 Use Code: SK2FEVER

 

6% OFF On

 Use Code: HIFU20



 All of our products are 100% authentic

 Guaranteed lowest price

 Why buy from TofuSecret?
TofuSecret guarantees a low price for this great item. We promise a lower price point compared to your local drugstores, pharmacies or supermarkets.
 

The secret of K-pop celebrities' perfect skin and v-shaped face! 😱

HIFU Lifting Treatment Portable Device for Home use

Non-surgical facelift system for [Wrinkle reduction / Tightening sagging skin on the neck / Lifting the cheeks, eyebrows, and eyelids / Enhancing jawline definition / Tightening of the décolletage / Smoothing the skin]

15% OFF  Use Code: HIFU20
Not sure which of our products is right for you? Take a quiz and you'll receive personalized skin care product recommendations and advice based on your answers. Start here:
SHANGPREE Phyto Essence UV Sunscreen SPF 50+ PA++++
What is SHANGPREE Phyto Essence UV Sunscreen SPF 50+ PA++++?
— This lightweight, high-efficiency Sunscreen works to shield the skin from harmful UVA and UVB rays

— It contains several natural ingredients that serve to not only protect the skin from sun damage but also moisturize and nourish it

— The non-sticky, quick-absorbing formula spreads with ease without feeling sticky or leaving a white cast

— It's suitable for all skin types including sensitive skin
It helps:
— Skin dryness
— Skin dullness
— Sun protection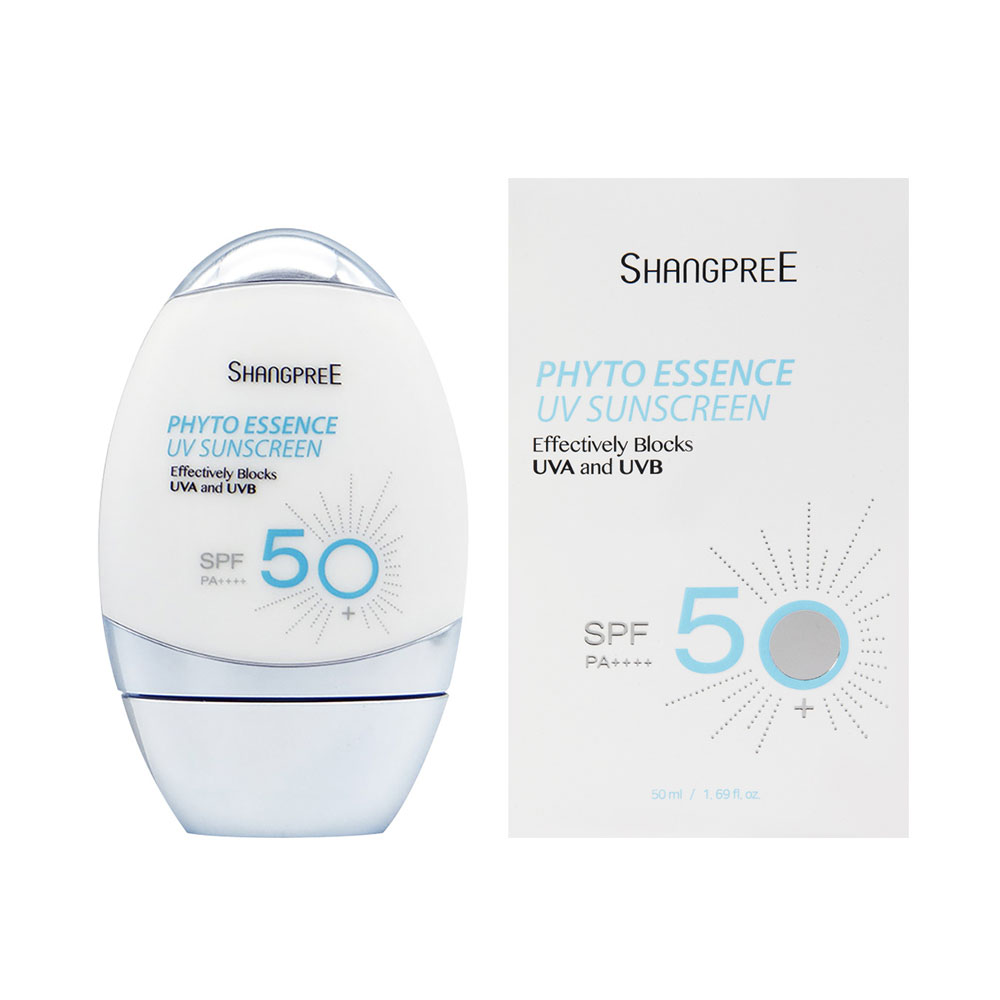 Questions and answers of the customers
There are no answers for this question yet.

Answer now
Only registered users are eligible to enter questions
Related Products
Sale!

Brands, Dry Skin, Korean Skin Care, Laneige, Lip Balms & Treatments, Masks, Prime Products, Shop by Concern, Skin Care, Sleeping Mask (Laneige), Sleeping Masks, The Best Skincare Awards, Wash Off Face Masks, Wrinkles

US$

0.58 –

US$

0.76Purchase This Item And Earn up to 21 points.




0.71oz / 20g

Sale!

Anti-Aging, Brands, Dry Skin, Dull Skin, Essence, Face Moisturizers, Korean Skin Care, Laneige, Moisturizers, Prime Products, Shop by Concern, Skin Care, Uneven Skin Texture, Water Bank (Laneige), Wrinkles

US$

55.00 Purchase This Item And Earn 44 points!




2.37oz / 70ml

Sale!

Brands, Dry Skin, Essence, Face Moisturizers, Korean Skin Care, Laneige, Moisturizers, Night Cream, Perfect Renew (Laneige), Prime Products, Shop by Concern, Skin Care, Uneven Skin Texture, Wrinkles

US$

61.25 Purchase This Item And Earn 56 points!




3.4oz / 100ml