Shiseido AQUALABEL White Special Gel Cream
Discount per Quantity
Quantity
2
3 - 4
5 - 8
9 +
Price

US$

1.29

US$

1.28

US$

1.26

US$

1.25
SKU: SHIS30051 - Need Help? Contact Us Leave Feedback
Categories: Anti-Aging, Brands, Dark Spots, Day Cream, Dry Skin, Dull Skin, Face Moisturizers, Freckles, Japanese Skin Care, Night Cream, Night Cream, Prime Products, Sagging Skin, Shiseido, Shop by Concern, Skin Care, Uneven Skin Texture, Whitening
Contact Us
Please find the Live Chat Box at the bottom right corner. We're ready to help 18 hours a day, 7 days a week. Please send us a message if we're not available to attend to you. Email:
[email protected]
Call customer services on +852 3618 5855 (HK)
DescriptionHow toIngredientsQ&Athe BrandShipping
AQUALABEL White Special Gel Cream
Which skin type is it good for?
* Dry
* Oily
* Combination
* Sensitive
* Normal
What it is:
— This all-in-1 Gel Cream uses Collagen, Hyaluronic Acid, and Almond Extract to deeply hydrate the skin and retain moisture throughout the day

— It effectively nourishes your skin by taking up the role of a toner, lotion, cream, essence, and facial mask

— The Cream promotes skin cell regeneration while restoring natural elasticity and firmness for a supple, elastic complexion

— It also contains skin-whitening effects that suppress melanin production, thereby preventing dark spots and freckles

— The gentle herbal rose fragrance relaxes your skin and mind
It helps:
— Skin dryness
— Skin dullness
— Uneven skin texture
— Anti-aging
— Sagging skin
— Dark spots
— Freckles
— Whitening
TofuSecret guarantees a low price for this great Shiseido skincare item. We promise a lower price point compared to your local drugstores, pharmacies, or supermarkets.
Are you a fan of Shiseido products? Please check out Shiseido for all quality Shiseido products at TofuSecret.
How to:
— Use in the morning and evening after washing your face

— Apply an appropriate amount and spread evenly over your face
— Wrap your cheeks with your palms to enhance absorption

— For maximum skincare benefits, use as a Mask

— Apply an appropriate amount, spread over the face, and leave for 3 minutes

Capacity: 3.17oz / 90g

Made in: Japan

Ingredients
Water, Glycerin, Dipropylene Glycol, Dimethicone, Diphenyl Dimethicone, Cetyl Ethylhexanoate, Trimethylsiloxysilicate, Carbomer, Sodium Glutamate, Sodium Acrylate/Sodium Acryloyldimethyl Taurate Copolymer, PEG/PPG-14/7 Dimethyl Ether, Camellia Sinensis Leaf Extract, Methionine, Glycine Soja (Soybean) Seed Extract, Glutamic Acid, Saccharomyces Cerevisiae Extract, Soluble Collagen, Sodium Acetylated Hyaluronate, Sodium Hyaluronate, Isobutane, Isohexadecane, Polysorbate 80, Potassium Hydroxide, Acrylates/CIO-30 Alkyl Acrylate Crosspolymer, PEG-9 Polydimethylsiloxyethyl Dimethicone, Alcohol, Alanine, Trisodium EDTA, Sodium Metabisulfite, Sodium Metaphosphate, Phenoxyethanol, Fragrance, Iron Oxides
Questions and answers of the customers
Shiseido appreciates beauty as a feeling and not an image. And as we all know, sharing is caring. Imagine living in a world where we all shared a beautiful feeling of beauty. It would certainly be a better place. Right?
Through diversity and throughout all of humanity, Shiseido believes beauty can be achieved by matching your specific skin concerns with the right product.
Share the feeling of beauty with those that matter the most to you with the rich collection of Shiseido beauty products available at TofuSecret.
More Shiseido products at [Shiseido Online Store Page]
6% OFF On

 Use Code: SK2FEVER

 

6% OFF On

 Use Code: HIFU20



 All of our products are 100% authentic

 Guaranteed lowest price

 Why buy from TofuSecret?
TofuSecret guarantees a low price for this great item. We promise a lower price point compared to your local drugstores, pharmacies or supermarkets.
 

The secret of K-pop celebrities' perfect skin and v-shaped face! 😱

HIFU Lifting Treatment Portable Device for Home use

Non-surgical facelift system for [Wrinkle reduction / Tightening sagging skin on the neck / Lifting the cheeks, eyebrows, and eyelids / Enhancing jawline definition / Tightening of the décolletage / Smoothing the skin]

15% OFF  Use Code: HIFU20
Not sure which of our products is right for you? Take a quiz and you'll receive personalized skin care product recommendations and advice based on your answers. Start here:
Shiseido AQUALABEL White Special Gel Cream
What is Shiseido AQUALABEL White Special Gel Cream?
— This all-in-1 Gel Cream uses Collagen, Hyaluronic Acid, and Almond Extract to deeply hydrate the skin and retain moisture throughout the day

— It effectively nourishes your skin by taking up the role of a toner, lotion, cream, essence, and facial mask

— The Cream promotes skin cell regeneration while restoring natural elasticity and firmness for a supple, elastic complexion

— It also contains skin-whitening effects that suppress melanin production, thereby preventing dark spots and freckles

— The gentle herbal rose fragrance relaxes your skin and mind
It helps:
— Skin dryness
— Skin dullness
— Uneven skin texture
— Anti-aging
— Sagging skin
— Dark spots
— Freckles
— Whitening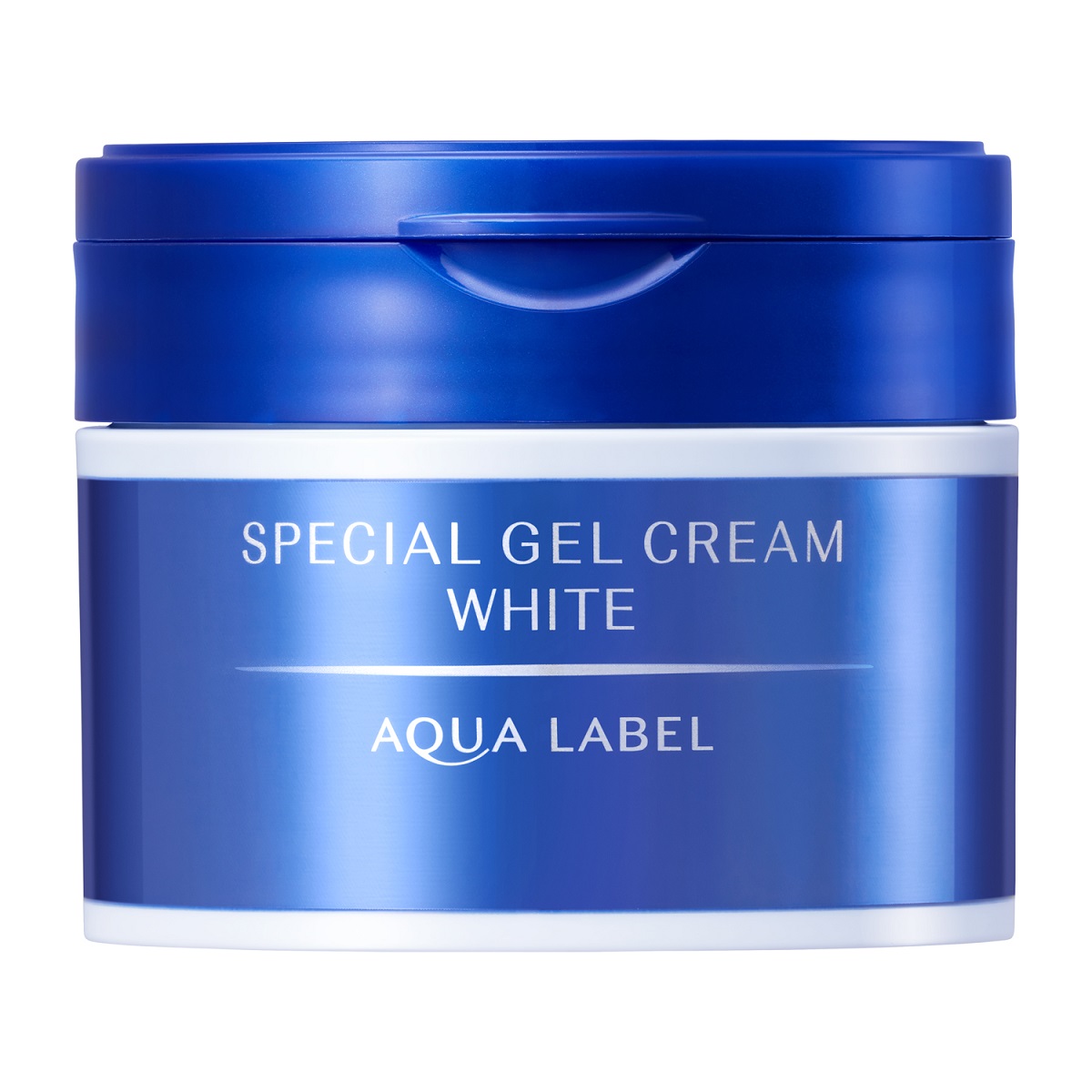 Questions and answers of the customers
Related Products
Sale!

Brands, Dry Skin, Essence, Face Moisturizers, Korean Skin Care, Laneige, Moisturizers, Perfect Renew (Laneige), Prime Products, Shop by Concern, Skin Care, Toners, Uneven Skin Texture, Wrinkles

US$

45.94 Purchase This Item And Earn 39 points!




4.06oz / 120ml

Sale!

Brands, Cleansers, Cleansing (Laneige), Dirt Removal, Dry Skin, Face Wash & Cleansers, Facial Peels, Intensive Care, Korean Skin Care, Laneige, Prime Products, Shop by Concern, Skin Care, The Best Skincare Awards

US$

27.44 Purchase This Item And Earn 25 points!




5.07oz / 150ml

Sale!

US$

50.00 Purchase This Item And Earn 39 points!




6.76oz / 200ml