SNP Gold Collagen Eye Patch
Discount per Quantity
Quantity
2
3 - 4
5 - 8
9 +
Price

US$

1.19

US$

1.18

US$

1.17

US$

1.16
Out of stock
SKU: SNP040003 - Need Help? Contact Us Leave Feedback
Categories: Anti-Aging, Brands, Dark Circle, Dry Skin, Dull Skin, Eye Care, Eye Masks, Korean Skin Care, Prime Products, Puffy Eyes, Sagging Skin, Shop by Concern, Skin Care, SNP, Uneven Skin Texture, Wrinkles
Contact Us
Please find the Live Chat Box at the bottom right corner. We're ready to help 18 hours a day, 7 days a week. Please send us a message if we're not available to attend to you. Email: hello@tofusecret.com Call customer services on +852 3618 5855 (HK)
DescriptionHow toIngredientsQ&Athe BrandShipping
Gold Collagen Eye Patch
Which skin type is it good for?
* Dry
* Oily
* Combination
* Sensitive
* Normal
What it is:
— This moisturizing Eye Patches deeply hydrate the delicate eye skin to restore natural elasticity and vitality

— Gold Extract and Hydrolyzed Collagen ingredients penetrate the skin to enrich it and inspire a consistent glow from the inside

— Green Tea Extract revives dull eye skin and effectively clears dark circles and puffiness, leaving you with a brighter, even look

— Other ingredients like Malt and Houttuynia Extract help to tighten sagging skin and reduce the appearance of wrinkles

— It nourishes and revives fatigued eye skin, ultimately inspiring a brighter and suppler complexion
It helps:
— Skin dryness
— Skin dullness
— Uneven skin texture
— Dark circles

— Puffy eyes
— Anti-aging
— Fine lines and wrinkles
— Sagging skin
TofuSecret guarantees a low price for this great SNP skincare item. We promise a lower price point compared to your local drugstores, pharmacies, or supermarkets.
Are you a fan of SNP products? Please check out SNP for all quality SNP products at TofuSecret.
How to:
— Use the Eye Patch after cleansing and toning your skin

— Carefully remove from the package and slowly spread it over the eye area

— Leave it for 20-30 minutes
— Peel off and massage the remaining essence with your fingertip

Capacity: 60 Pcs

Made in: South Korea

Ingredients
Water, Glycerin, Calcium Chloride, Ceratonia Siliqua Gum, Xanthan Gum, Hydrolyzed Collagen, Butylene Glycol, Ethyl Hexanediol, Chondrus Crispus Powder, PEG-60 Hydrogenated Castor Oil, Malt Extract, Linum Usitatissimum (Linseed) Seed Extract, Beta-Glucan, Fucus Vesiculosus Extract, Prunella Vulgaris Extract, Citrus Grandis (Grapefruit) Seed Extract, Bambusa Textilis Stem Extract, Pinus Palustris Leaf Extract, Scutellaria Baicalensis Root Extract, Camellia Sinensis Leaf Extract, Houttuynia Cordata Extract, Artemisia Vulgaris Extract, Citrus Junos Fruit Extract, 1,2-Hexanediol, Caprylyl Glycol, Synthetic Fluorphlogopite, Tin Oxide, Titanium Dioxide, CI 77491, Adenosine, Hydroxyethylcellulose, Acetyl Hexapeptide-8, Gold, Phenoxyethanol, Chlorphenesin, Ethylhexylglycerin, Disodium EDTA, Fragrance
Questions and answers of the customers
There are no answers for this question yet.

Answer now
Only registered users are eligible to enter questions
The research programs and clinical experiments are spearheaded by Lee Seung-Chang, the dean of SNP Skin Clinic in South Korea. Lee has been committed to solving the different skin concerns by effectively matching them with the right skin care products. All the products are run through sensitive skin tests to enhance their safety and effectiveness.
More SNP products at [SNP Online Store Page]
6% OFF On

 Use Code: SK2FEVER

 

6% OFF On

 Use Code: HIFU20



 All of our products are 100% authentic

 Guaranteed lowest price

 Why buy from TofuSecret?
TofuSecret guarantees a low price for this great item. We promise a lower price point compared to your local drugstores, pharmacies or supermarkets.
 

The secret of K-pop celebrities' perfect skin and v-shaped face! 😱

HIFU Lifting Treatment Portable Device for Home use

Non-surgical facelift system for [Wrinkle reduction / Tightening sagging skin on the neck / Lifting the cheeks, eyebrows, and eyelids / Enhancing jawline definition / Tightening of the décolletage / Smoothing the skin]

15% OFF  Use Code: HIFU20
Not sure which of our products is right for you? Take a quiz and you'll receive personalized skin care product recommendations and advice based on your answers. Start here:
SNP Gold Collagen Eye Patch
What is SNP Gold Collagen Eye Patch?
— This moisturizing Eye Patches deeply hydrate the delicate eye skin to restore natural elasticity and vitality

— Gold Extract and Hydrolyzed Collagen ingredients penetrate the skin to enrich it and inspire a consistent glow from the inside

— Green Tea Extract revives dull eye skin and effectively clears dark circles and puffiness, leaving you with a brighter, even look

— Other ingredients like Malt and Houttuynia Extract help to tighten sagging skin and reduce the appearance of wrinkles

— It nourishes and revives fatigued eye skin, ultimately inspiring a brighter and suppler complexion
It helps:
— Skin dryness
— Skin dullness
— Uneven skin texture
— Dark circles

— Puffy eyes
— Anti-aging
— Fine lines and wrinkles
— Sagging skin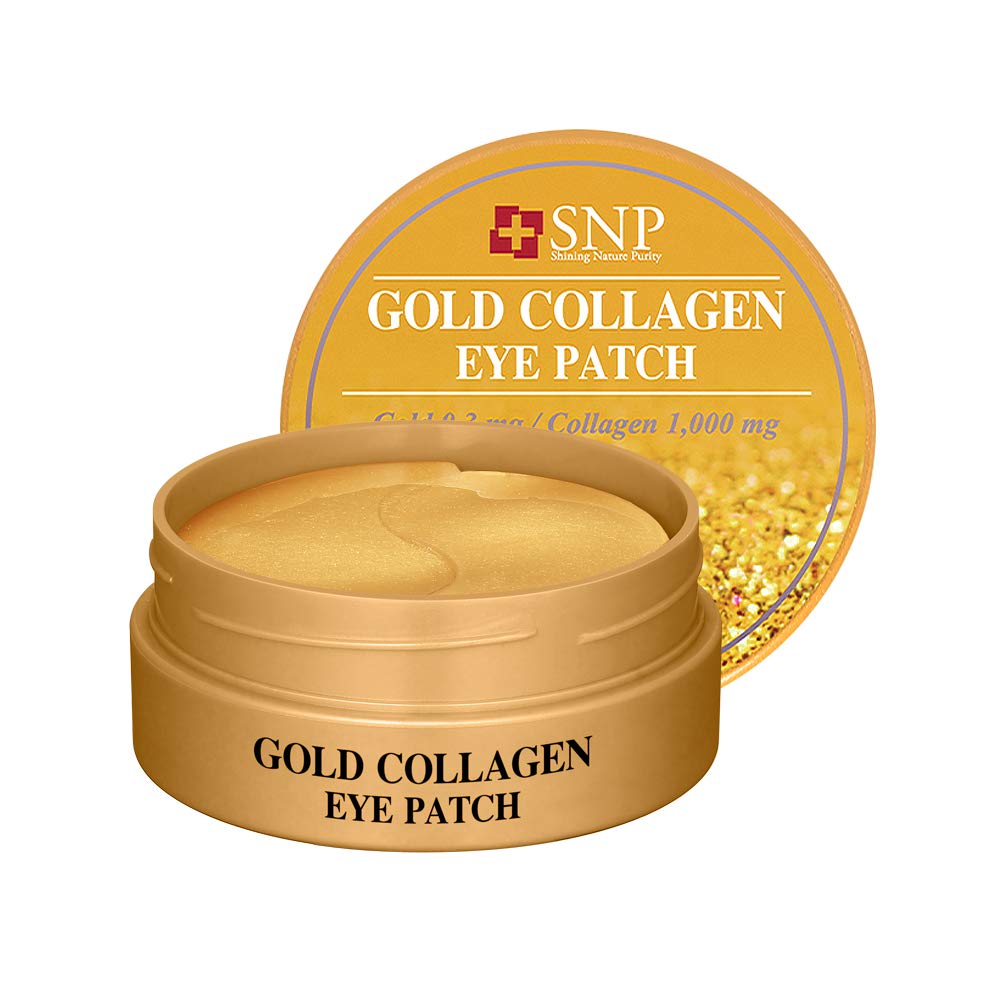 Questions and answers of the customers
There are no answers for this question yet.

Answer now
Only registered users are eligible to enter questions
Related Products
Sale!

Basic Care (Laneige), Brands, Dry Skin, Dull Skin, Face Moisturizers, Korean Skin Care, Laneige, Moisturizers, Prime Products, Shop by Concern, Skin Care

US$

40.00 Purchase This Item And Earn 31 points!




4.06oz / 120ml

Sale!

Anti-Aging, Brands, Dry Skin, Dull Skin, Essence, Face Moisturizers, Korean Skin Care, Laneige, Moisturizers, Prime Products, Shop by Concern, Skin Care, Uneven Skin Texture, Water Bank (Laneige), Wrinkles

US$

55.00 Purchase This Item And Earn 44 points!




2.37oz / 70ml