JM SOLUTION Active Golden Caviar Nourishing Mask
Discount per Quantity
Quantity
2
3 - 4
5 - 8
9 +
Price

US$

0.62

US$

0.61

US$

0.61

US$

0.60
SKU: JMSO50023 - Need Help? Contact Us Leave Feedback
Categories: Active (JMsolution), Anti-Aging, Brands, Damaged Skin, Dry Skin, JMsolution, Korean Skin Care, Masks, Sagging Skin, Sheet Masks, Shop by Concern, Skin Care, Uneven Skin Texture
Contact Us
Please find the Live Chat Box at the bottom right corner. We're ready to help 18 hours a day, 7 days a week. Please send us a message if we're not available to attend to you. Email:
[email protected]
Call customer services on +852 3618 5855 (HK)
DescriptionHow toIngredientsQ&Athe BrandShipping
Active Golden Caviar Nourishing Mask
Which skin type is it good for?
* Dry
* Oily
* Combination
* Sensitive
* Normal
What it is:
– The Golden Caviar Nourishing Mask uses its intensive gel-textured essence to restore the skin's natural firmness  and tighten sagging skin
– It provides long-lasting hydration and nourishment to deprived skin for a revitalized look and feel
– The soft and gentle Sheet adheres perfectly on your face and leaves a comfortable feeling to the skin
– The nutrient-rich Caviar Extract seeps deep into the skin to promote smooth, even texture
It helps:
– Skin dryness
– Uneven skin texture
– Sagging skin
– Damaged skin
– Anti-aging
TofuSecret guarantees a low price for this great JM SOLUTION skincare item. We promise a lower price point compared to your local drugstores, pharmacies, or supermarkets.
Are you a fan of JM SOLUTION products? Please check out JM SOLUTION for all quality JM SOLUTION products at TofuSecret.
– Use the Mask after Cleansing and Toning your skin
– Spread the Sheet on your face gently to ensure that you get perfect coverage
– Leave it for 10-20 minutes
– Peel it off and pat your face lightly to enhance absorption of the remaining essence
Capacity: 10 Pcs
Made in: South Korea
Ingredients
Water, Glycerin, Glycereth26, Methylpropanediol, Phenoxyethanol, Trehalose, Carbomer, Allantoin, Betaine, PEG-60 Hydrogenated Castor Oil, Triethanot-arnine, Butylene Glycol, Ethythexylglycerin, Disodium EDTA,1,2-Hexanediol, Glyceryl Polyacrytate, Caviar Extract(100PPMESodiurn Hyaluronate, Fragrance, Chondrus Cnspus Powder, Agar, Synthetic Fluorphlogopite, Titanium Dioxide, Acrylates/C10-30 Alkyl Acrylate Crosspotymearornethamine, Artemisia Princeps Leaf Extract, Catendula Officinalis Extract, CI 77491, Mica, Scutettaria Baicatensis Root Extract, Gettan Gurn, Tin Oxide, Hyaluronic Acid, Hydrolyzed Hyaluronic Acid, Glucose, Goldt10PPB1
Questions and answers of the customers
JM Solution was founded by a team of experts in dermatology, aesthetics, and plastic surgery, making it one of the most comprehensive skin care brands. The brand offers a wide range of products for your daily skin care routine, with emphasis on improving the skin's vitality and elasticity to reduce the signs of premature wrinkles and fine lines for women in their 20s and 30s. 
TofuSecret offers you a rich collection of JM Solution's skin care and makeup products at discounted rates.
More JM Solution products at [JM Solution Online Store Page]
6% OFF On

 Use Code: SK2FEVER

 

6% OFF On

 Use Code: HIFU20



 All of our products are 100% authentic

 Guaranteed lowest price

 Why buy from TofuSecret?
TofuSecret guarantees a low price for this great item. We promise a lower price point compared to your local drugstores, pharmacies or supermarkets.
 

The secret of K-pop celebrities' perfect skin and v-shaped face! 😱

HIFU Lifting Treatment Portable Device for Home use

Non-surgical facelift system for [Wrinkle reduction / Tightening sagging skin on the neck / Lifting the cheeks, eyebrows, and eyelids / Enhancing jawline definition / Tightening of the décolletage / Smoothing the skin]

15% OFF  Use Code: HIFU20
Not sure which of our products is right for you? Take a quiz and you'll receive personalized skin care product recommendations and advice based on your answers. Start here:
JM SOLUTION Active Golden Caviar Nourishing Mask
What is JM SOLUTION Active Golden Caviar Nourishing Mask?
– The Golden Caviar Nourishing Mask uses its intensive gel-textured essence to restore the skin's natural firmness  and tighten sagging skin
– It provides long-lasting hydration and nourishment to deprived skin for a revitalized look and feel
– The soft and gentle Sheet adheres perfectly on your face and leaves a comfortable feeling to the skin
– The nutrient-rich Caviar Extract seeps deep into the skin to promote smooth, even texture
It helps:
– Skin dryness
– Uneven skin texture
– Sagging skin
– Damaged skin
– Anti-aging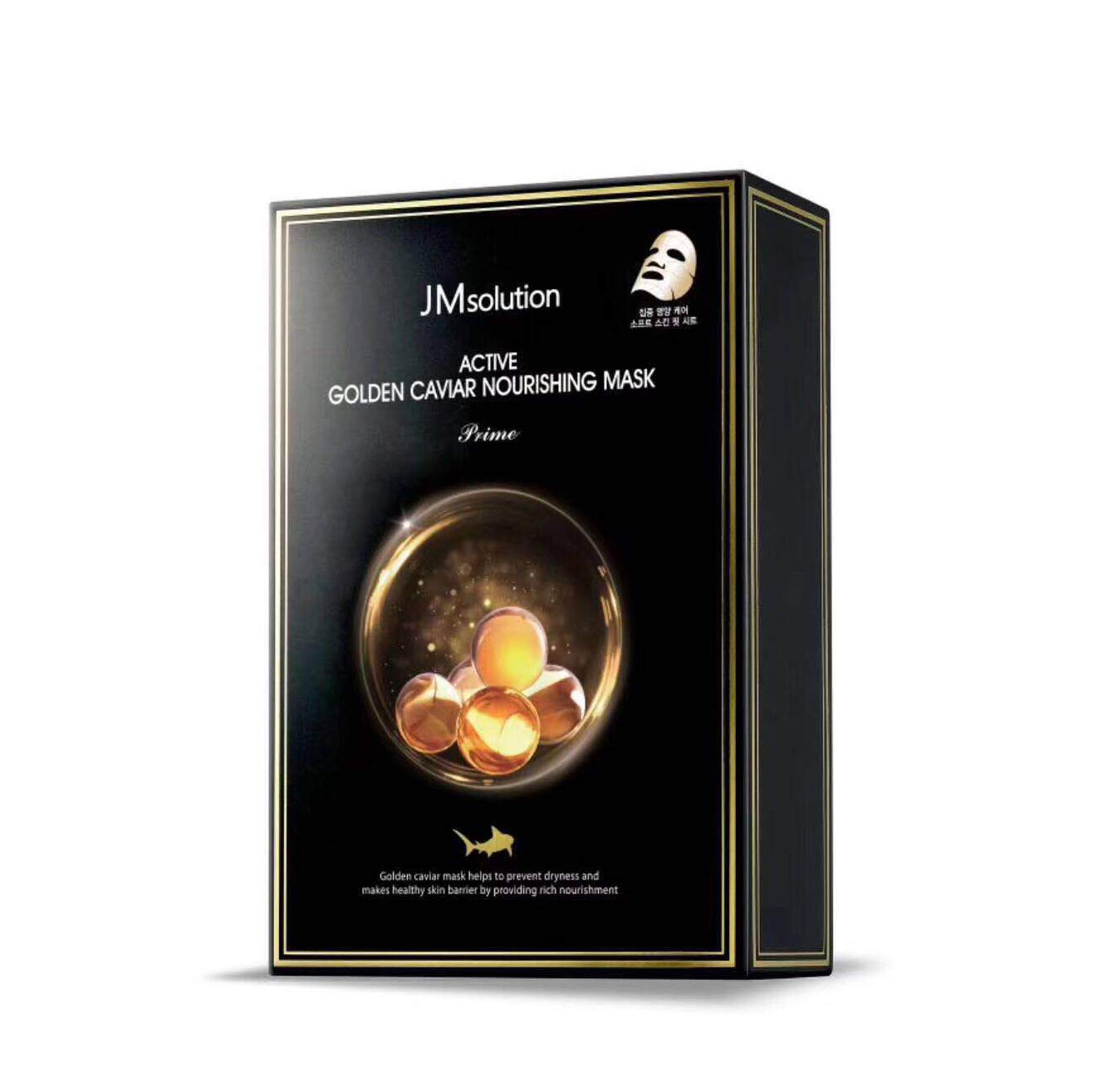 Questions and answers of the customers
Related Products
Sale!

Basic Care (Laneige), Brands, Dry Skin, Dull Skin, Face Moisturizers, Korean Skin Care, Laneige, Moisturizers, Prime Products, Shop by Concern, Skin Care

US$

40.00 Purchase This Item And Earn 31 points!




4.06oz / 120ml

Sale!

Brands, Dry Skin, Dull Skin, Essence, Face Moisturizers, Korean Skin Care, Laneige, Moisturizers, Prime Products, Shop by Concern, Skin Care, Uneven Skin Texture, Water Bank (Laneige), Wrinkles

US$

40.82 Purchase This Item And Earn 35 points!




2.37oz / 70ml

Sale!

Brands, Dry Skin, Korean Skin Care, Laneige, Lip Balms & Treatments, Masks, Prime Products, Shop by Concern, Skin Care, Sleeping Mask (Laneige), Sleeping Masks, The Best Skincare Awards, Wash Off Face Masks, Wrinkles

US$

0.58 –

US$

0.76Purchase This Item And Earn up to 21 points.




0.71oz / 20g