JM SOLUTION MAMA Pureness Aqua Mask
Discount per Quantity
Quantity
2
3 - 4
5 - 8
9 +
Price

€

18.67

€

18.48

€

18.29

€

18.10
SKU: JMSO50024 - Need Help? Contact Us Leave Feedback
Categories: Brands, Dry Skin, Dull Skin, Freckles, JMsolution, Korean Skin Care, MAMA (JMsolution), Masks, Sagging Skin, Sheet Masks, Shop by Concern, Skin Care
Contact Us
Please find the Live Chat Box at the bottom right corner. We're ready to help 18 hours a day, 7 days a week. Please send us a message if we're not available to attend to you. Email:
[email protected]
Call customer services on +852 3618 5855 (HK)
DescriptionHow toIngredientsQ&Athe BrandShipping
MAMA Pureness Aqua Mask
Which skin type is it good for?
* Dry
* Oily
* Combination
* Sensitive
* Normal
What it is:
– This Mask is specially designed to help you deal with common skin concerns that arise during pregnancy
– It provides the skin of soon-to-be mothers with efficient moisture and nutrients to help them concentrate more on the unborn's well-being and worry less about their skin problems
– The Mask adheres perfectly on your face for effective moisture and nutrient transfer
– It also strengthens the water barrier to discourage water loss and protect the skin from irritants
– Its mild formulation makes it a classic Mask even for people with sensitive skin
It helps:
– Skin dryness
– Skin dullness
– Freckles
– Oil control
– Sagging skin
– Protects the skin from irritants
TofuSecret guarantees a low price for this great JM SOLUTION skincare item. We promise a lower price point compared to your local drugstores, pharmacies, or supermarkets.
Are you a fan of JM SOLUTION products? Please check out JM SOLUTION for all quality JM SOLUTION products at TofuSecret.
– Use the Mask after Cleansing and Toning your skin
– Spread the Sheet on your face gently to ensure that you get perfect coverage
– Leave it for 10-20 minutes
– Peel it off and pat your face lightly to enhance absorption of the remaining essence
Capacity: 10 Pcs
Made in: South Korea
Ingredients
Waler, Glycerin, Glycereth-26, Niacinamide, Propanediol, Butylene Glycol, Hydroxyacetophenone, Dipropylene Glycol, Arginine, Carbomer, Caprylyl Glycol, Trehalose, Elhylhexylglycerin, Dipotassium Glycyrrhizate, Adenosine, Xanthan Gum, 1,2-Hexanediol, DisodIum EDTA, Hydroxyethylcellulose, Betaine, Allantoin, Panthenol, Brassica Oleracea Gemmifera [Brussels Sprouts] Extract, Centella Asiatica Extract, Potassium Hyaluronate, Hydrolyzed Sodium Hyaluronate, Sodium Hyaluronate, Sodium Hyaluronate Crosspolymer, Hydrolyzed Glycosaminoglycans, Hydrolyzed Hyaluronic Acid, Hyaluronic Acid, Cocos Nucifera [Coconut] 0il, Hydrogenated Lecithin, Sodium Acetylated Hyaluronate, Hydroxypropyltrimonium Hyaluronate.Ceramide NP, Tocopheryl Acetate
Questions and answers of the customers
There are no answers for this question yet.

Answer now
JM Solution was founded by a team of experts in dermatology, aesthetics, and plastic surgery, making it one of the most comprehensive skin care brands. The brand offers a wide range of products for your daily skin care routine, with emphasis on improving the skin's vitality and elasticity to reduce the signs of premature wrinkles and fine lines for women in their 20s and 30s. 
TofuSecret offers you a rich collection of JM Solution's skin care and makeup products at discounted rates.
More JM Solution products at [JM Solution Online Store Page]
6% OFF On

 Use Code: SK2FEVER

 

6% OFF On

 Use Code: HIFU20



 All of our products are 100% authentic

 Guaranteed lowest price

 Why buy from TofuSecret?
TofuSecret guarantees a low price for this great item. We promise a lower price point compared to your local drugstores, pharmacies or supermarkets.
 

The secret of K-pop celebrities' perfect skin and v-shaped face! 😱

HIFU Lifting Treatment Portable Device for Home use

Non-surgical facelift system for [Wrinkle reduction / Tightening sagging skin on the neck / Lifting the cheeks, eyebrows, and eyelids / Enhancing jawline definition / Tightening of the décolletage / Smoothing the skin]

15% OFF  Use Code: HIFU20
Not sure which of our products is right for you? Take a quiz and you'll receive personalized skin care product recommendations and advice based on your answers. Start here:
JM SOLUTION MAMA Pureness Aqua Mask
What is JM SOLUTION MAMA Pureness Aqua Mask?
– This Mask is specially designed to help you deal with common skin concerns that arise during pregnancy
– It provides the skin of soon-to-be mothers with efficient moisture and nutrients to help them concentrate more on the unborn's well-being and worry less about their skin problems
– The Mask adheres perfectly on your face for effective moisture and nutrient transfer
– It also strengthens the water barrier to discourage water loss and protect the skin from irritants
– Its mild formulation makes it a classic Mask even for people with sensitive skin
It helps:
– Skin dryness
– Skin dullness
– Freckles
– Oil control
– Sagging skin
– Protects the skin from irritants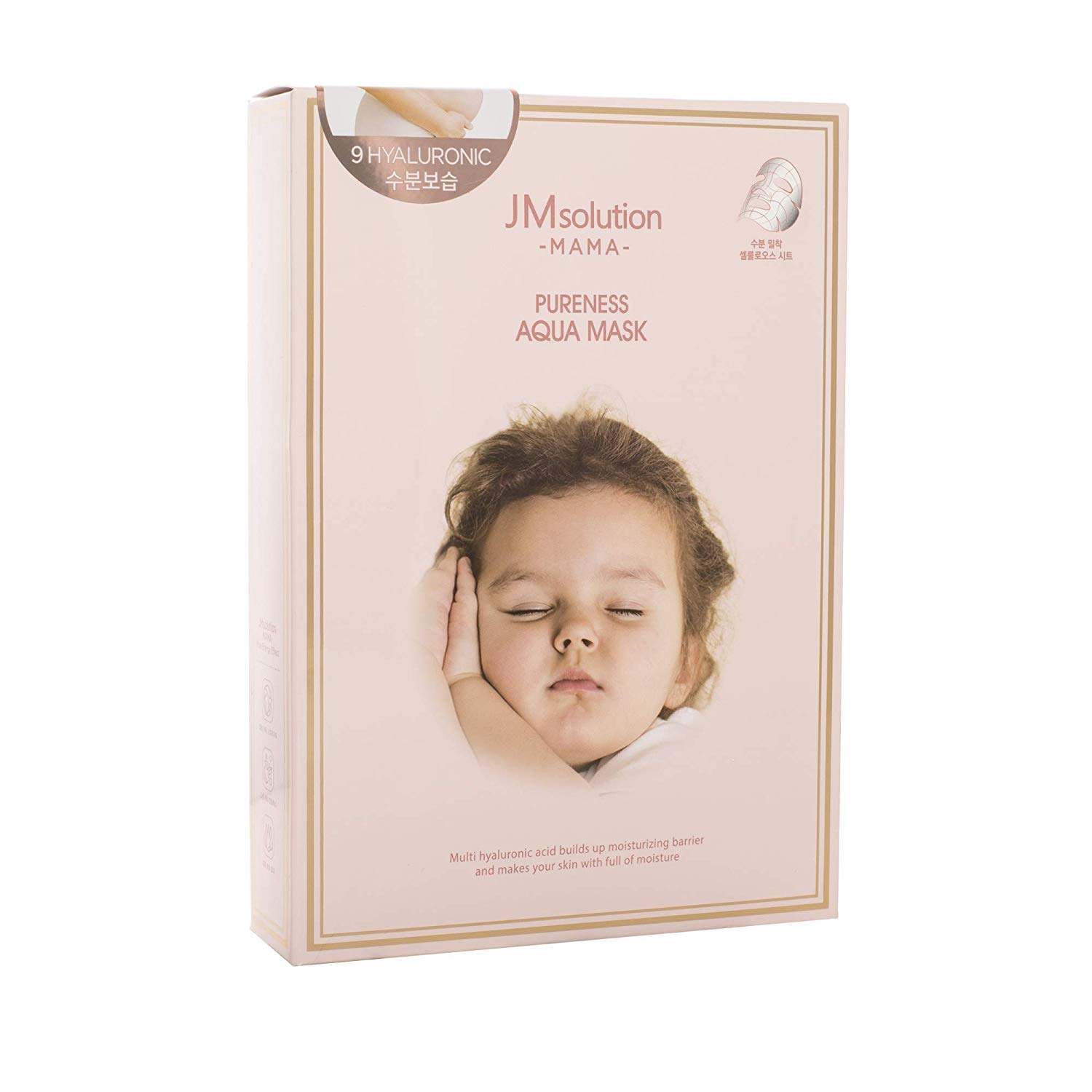 Questions and answers of the customers
There are no answers for this question yet.

Answer now
Related Products
Anti-Aging, Brands, Damaged Skin, Dry Skin, Dull Skin, Korean Skin Care, Laneige, Masks, Prime Products, Shop by Concern, Skin Care, Sleeping Mask (Laneige), Sleeping Masks, The Best Skincare Awards, Uneven Skin Texture, Wash Off Face Masks, Wrinkles

€

22.01 –

€

31.48Purchase This Item And Earn up to 33 points.




2.37oz / 70ml, 3.4oz / 100ml

Sale!

€

46.90 Purchase This Item And Earn 39 points!




6.76oz / 200ml

Sale!

Anti-Aging, Brands, Day Cream, Dry Skin, Dull Skin, Face Moisturizers, Korean Skin Care, Laneige, Moisturizers, Night Cream, Prime Products, Shop by Concern, Skin Care, Water Bank (Laneige), Wrinkles

€

42.43 Purchase This Item And Earn 34 points!




1.69oz / 50ml