Mediheal Masking Layering Ampoule Hydra Shot
Discount per Quantity
Quantity
2
3 - 4
5 - 8
9 +
Price

US$

0.59

US$

0.59

US$

0.58

US$

0.58
SKU: MEDI30001 - Need Help? Contact Us Leave Feedback
Categories: Ampoule, Anti-Aging, Brands, Damaged Skin, Dry Skin, Dull Skin, Intensive Care, Korean Skin Care, Mediheal, Pores, Shop by Concern, Skin Care, Uneven Skin Texture, Wrinkles
Contact Us
Please find the Live Chat Box at the bottom right corner. We're ready to help 18 hours a day, 7 days a week. Please send us a message if we're not available to attend to you. Email:
[email protected]
Call customer services on +852 3618 5855 (HK)
DescriptionHow toIngredientsQ&Athe BrandShipping
Masking Layering Ampoule Hydra Shot
Which skin type is it good for?
* Dry
* Oily
* Combination
* Sensitive
* Normal
What it is:
– It's a moisturizing and repairing Essence that works to replenish moisture and firmness to deprived skin for a renewed look

– This Tripple Repairing Ampoule seeps deep into the pores to effectively hydrate dry skin and lock in the moisture for long-lasting suppleness
– It also has brightening and firming functions that help to fight dullness and restore the skin's natural elasticity and vitality for a brighter, firmer appearance
– By restoring the skin's vitality, this Essence reduces the signs of wrinkles and tightens enlarged pores to promote a smooth, consistent skin texture
– Moreover, the Ampoule can be used as a post-sun repair serum to reduce redness and inflammation as well as a primer to enhance your makeup
It helps:
– Skin dryness
– Skin dullness
– Uneven skin texture
– Damaged skin
– Pores
– Anti-aging
– Fine lines and wrinkles
TofuSecret guarantees a low price for this great Mediheal skincare item. We promise a lower price point compared to your local drugstores, pharmacies, or supermarkets.
Are you a fan of Mediheal products? Please check out Mediheal for all quality Mediheal products at TofuSecret.
– After cleansing, dispense 2-3 drops of the Ampoule evenly on your cheeks, chin, and forehead

– Gently massage to enhance absorption
– Repeat the previous steps twice for perfect masking of the face
Capacity: 3 Pcs

Made in: South Korea
Ingredients
Main Ingredients; Hydra Cx Technology, Sodium Hyaluronate, Ceramide NP, Grapefruit Fruit Extract, Tremella Extract
Questions and answers of the customers
Only registered users are eligible to enter questions
Mediheal is a brand of L&P Corporation in Korea with a reputation that continues to spread like wildfire.  All the products are skin-friendly and dermatologist tested for effectiveness. And with over 10 million mask packs sold worldwide and the recommendation from SBS and the Korean Media, things can only get better. 
More MEDIHEAL products at [MEDIHEAL Online Store Page]
6% OFF On

 Use Code: SK2FEVER

 

6% OFF On

 Use Code: HIFU20



 All of our products are 100% authentic

 Guaranteed lowest price

 Why buy from TofuSecret?
TofuSecret guarantees a low price for this great item. We promise a lower price point compared to your local drugstores, pharmacies or supermarkets.
 

The secret of K-pop celebrities' perfect skin and v-shaped face! 😱

HIFU Lifting Treatment Portable Device for Home use

Non-surgical facelift system for [Wrinkle reduction / Tightening sagging skin on the neck / Lifting the cheeks, eyebrows, and eyelids / Enhancing jawline definition / Tightening of the décolletage / Smoothing the skin]

15% OFF  Use Code: HIFU20
Not sure which of our products is right for you? Take a quiz and you'll receive personalized skin care product recommendations and advice based on your answers. Start here:
Mediheal Masking Layering Ampoule Hydra Shot

What is Mediheal Masking Layering Ampoule Hydra Shot?
– It's a moisturizing and repairing Essence that works to replenish moisture and firmness to deprived skin
– This Tripple Repairing Ampoule seeps deep into the pores to effectively hydrate dry skin and lock in the moisture for long-lasting suppleness
– It also has brightening and firming functions that help to fight dullness and restore the skin's natural elasticity and vitality for a brighter, firmer appearance
– Through restoring vitality, the Essence reduces the signs of wrinkles and tightens enlarged pores to promote a smooth, consistent skin texture
– Moreover, the Ampoule can be used as a post-sun repair serum to reduce redness and inflammation as well as a primer to enhance your makeup
It helps:
– Skin dryness
– Skin dullness
– Uneven skin texture
– Damaged skin
– Pores
– Anti-aging
– Fine lines and wrinkles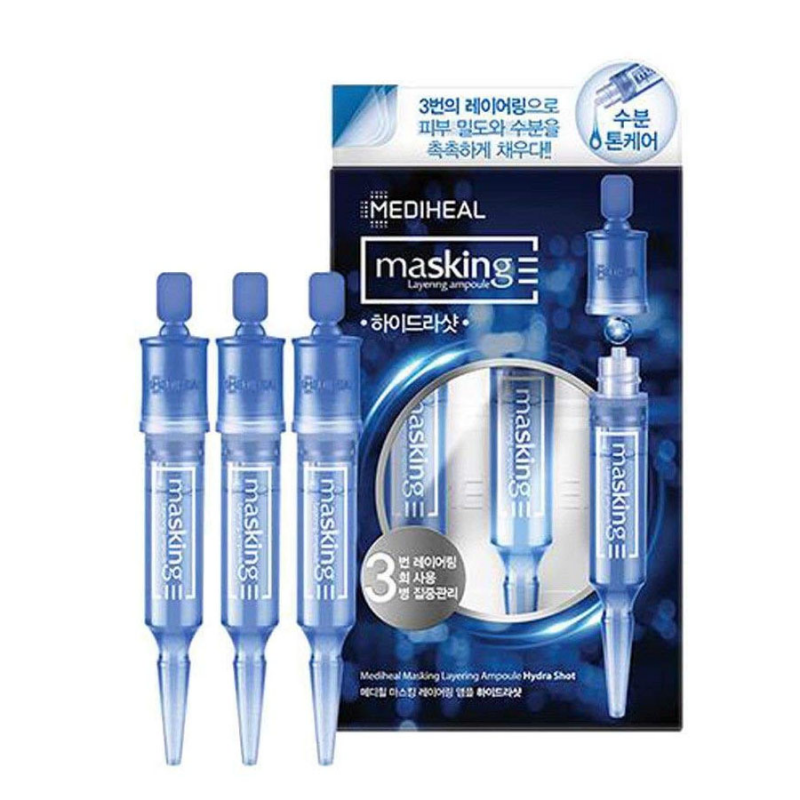 Questions and answers of the customers
Only registered users are eligible to enter questions
Related Products
Sale!

Brands, Damaged Skin, Day Cream, Dry Skin, Face Moisturizers, Korean Skin Care, Laneige, Moisturizers, Night Cream, Perfect Renew (Laneige), Prime Products, Sagging Skin, Shop by Concern, Skin Care, Uneven Skin Texture, Wrinkles

US$

81.66 Purchase This Item And Earn 78 points!




1.69oz / 50ml