What is Hifu treatment for face lift: The secret of perfect skin for K-pop Celebrities
HIFU (High-Intensity Focused Ultrasound) is a renowned beauty technique popularized by K-pop celebrities. This revolutionary non-invasive procedure offers instant and long-lasting results. And unlike spending countless hours in front of the mirror and on photo editing apps, the smooth texture and radiant glow stays with you at all times. In fact, HIFU allows you to spend less time in front of the mirror and more time doing things that matter the most in your life.
With the development of technology and advancement in innovation programs, South Korean manufacturers have even developed a small device to bring the HIFU technology to your home. Initially, people who wanted non-invasive face-lifts would have to do it in their dermatologist's clinic, where enormous machines were a common sight. However, with the small hand-held HIFU machine, you can now achieve a Korean V-shaped face and no-makeup 'glass' skin easily from the comfort of your house.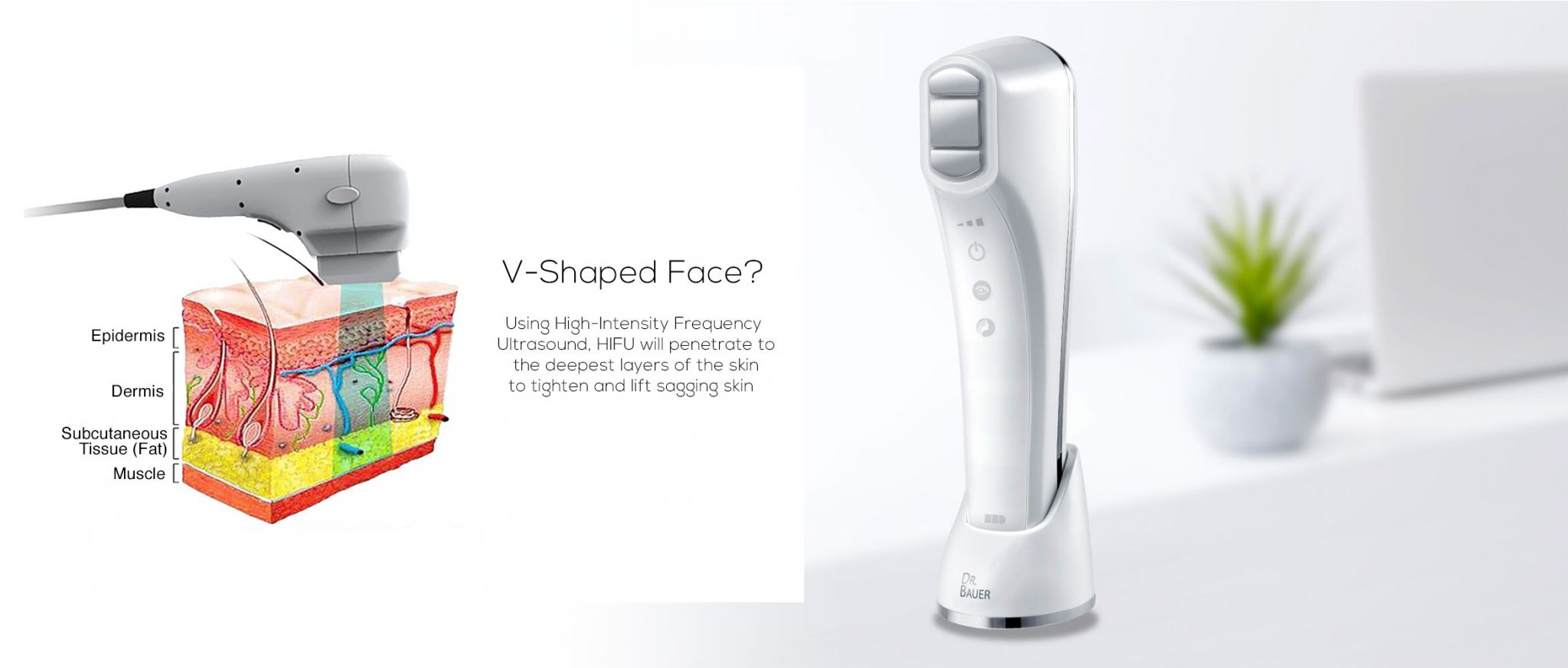 The New Sheriff in Town
HIFU treatment might be a relatively new technology, but many people already rank it as a legit alternative to the painful and invasive face-lifts. It works to stimulate collagen and elastin production by the skin, resulting in firmer and healthier-looking skin. What's more, the Food and Drug Administration (FDA) approved the technology in 2009 for blow lifts. Five years later, FDA cleared the skin lifting device to be used for wrinkles and fine lines' reduction around the neckline.
Besides FDA certification, independent clinical trials have found HIFU to be safe and effective. People who have used the device to lift their facial skin and diminish the appearance of wrinkles see results within a month or two. Most Importantly, it alienates the risks and pain associated with surgery. For this reason, K-pop celebrities and numerous other people have all dived in. It's ideal for young people, especially those that don't want to go through the pain and recovery period associated with surgeries.
HIFU Facial Lifting
As stressed before, HIFU facial lifting technology is a new skin firming practice that has its roots in South Korea. The procedure channels ultrasound waves to the skin layers below the surface, causing the tissue to heat up rapidly. Once the cells in the targeted area heat up, they experience cellular damage, consequently forcing the skin to produce collagen to initiate healing. The increased collagen production rate helps to restore natural elasticity and firmness in the long-run.
Consistent use of the machine strengthens the skin cell fibers to diminish the signs of wrinkles and fine lines. Most importantly, the ultrasound waves are directed to specific tissues below the skin surface to ensure there's no damage to the epidermis and adjacent tissue.
Generally, HIFU treatment is recommended for people in their '30s with mild-to-moderate skin laxity. Older people with severe skin sensitivity and extensive photo-aging might need surgery. People with a high degree of sagging skin may find it harder to get the V-shaped face and no-makeup 'glass' skin easily. In such cases, you may need several other treatments before you can see the results.
Note: People with cystic acne, skin lesions, and metallic implants in the treatment area are advised against using HIFU treatment.
Benefits of HIFU
The most important benefits of HIFU treatment are wrinkle reduction and tightening of sagging skin. According to a study by the American Society of Aesthetic Plastic Surgery (ASAPS), this technology has increased in popularity over the last few years. The number of HIFU and other non-surgical procedures performed between 2012 and 2017 saw a record-breaking 64.8% increase, and according to ASAPS, things can only get better.
Some of the most common benefits of HIFU treatment are:
Wrinkles and fine lines reduction.
Refining the skin texture.
Jawline definition.
Firming skin around the upper chest and neck.
Lifting sagging skin on the cheeks.
Recent studies involving Korean people have shown that participants' skin improved on three fronts; elasticity, texture, and consistency. Another studies shown that everything from the face to the neck and the chest, HIFU refines the skin texture and clears rough patches.
HIFU vs. facelift
While HIFU carries far fewer risks and costs than a surgical face lift, results may not last as long and repeated procedures may be needed. Here's a summary of the major differences between each procedure: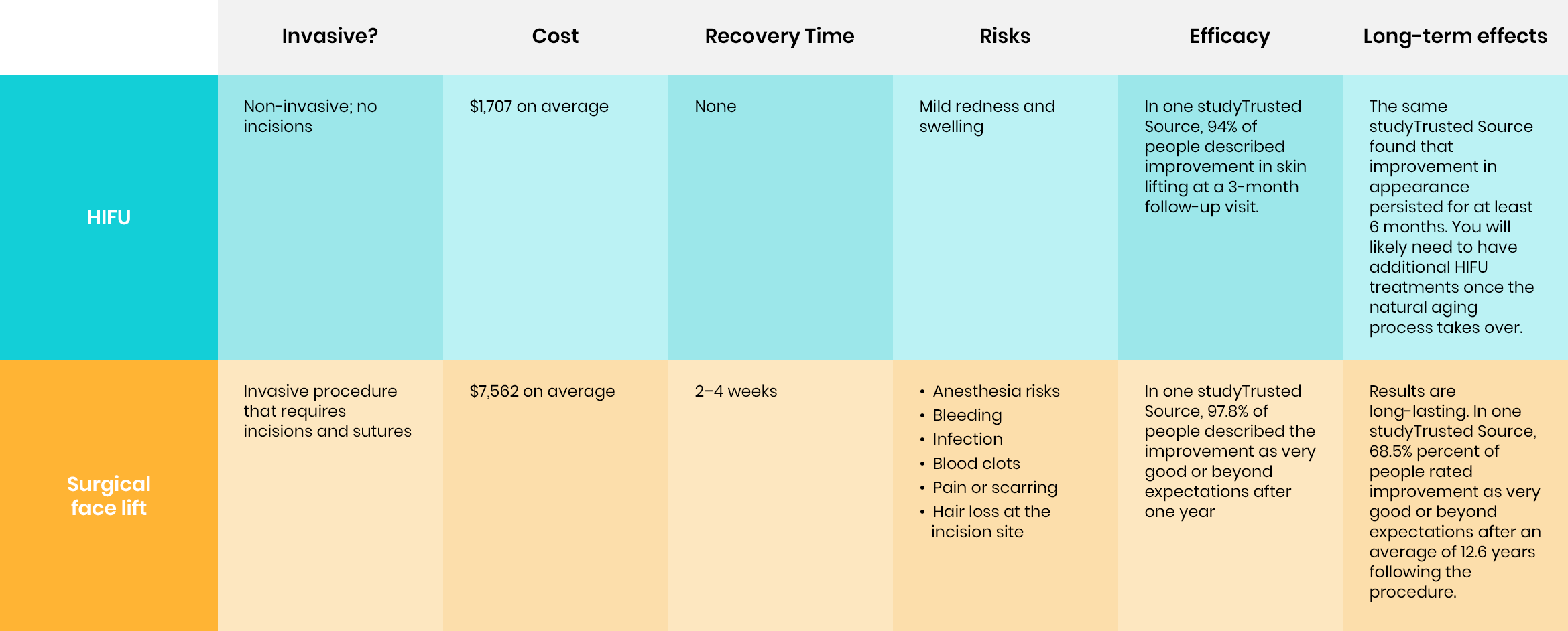 HIFU Vs. RF Devices
Like any other treatment procedure, several HIFU alternatives are on the market, but RF devices are the most common. So, here's how HIFU and RF devices compare;
Unlike RF devices, HIFU's ultrasound energy targets the skin layers beneath the surface. It reaches the subcutaneous tissue, thereby avoiding any disruption or damage to the dermis and surrounding tissues. On the other hand, RF devices don't go past the dermis, which makes the treatment half-hearted' and not as effective.
HIFU devices are designed to concentrate the heat on one specific place at a time, while RF devices do more of bulk heating.
HIFU is packaged as a single treatment procedure, while RF may require several treatment sessions. Other factors like the state of your skin's elasticity and the type of device used will determine the frequency of the sessions.
HIFU is a relatively new technology, while RF devices have been around for longer.
The Side Effects of HIFU Treatment
As stressed earlier, HIFU is a non-invasive face-lifting treatment procedure, meaning that there's very little to worry about. Firstly, you don't have to deal with a lengthy recovery period and the pain that comes with surgery. In fact, with HIFU, you can resume your normal activities as soon as you're done with the procedure.
The best thing about it is you can comfortably tighten sagging skin from the comfort of your home. If you don't want to use the small device and instead prefer it to be done by a professional, make sure you go to the right place. It only takes 20-30 minutes, and you can easily fit it into your tight schedule.
You might feel a slight tingling sensation, but it goes away just as quickly as it came. Temporal numbness might also be felt, but it goes away after a few days. Images via The Body Clinic.
HIFU At-home Device
The development in technology and innovation has made it easy to have your HIFU treatment. If you don't want to go to the clinic, you can have it in your living room using the HIFU hand-held device. This portable machine makes it easy to wipe off wrinkles and tighten sagging skin. Most importantly, you don't need much, expect the machine and a Pre-Treatment Activator or any other conductive gel.
Wrapping Up
As you can see, HIFU treatment is a safe and effective procedure that gets your radiant skin back without having to deal with unpleasant post-surgery experiences. It's non-invasive, and you don't need recovery time either. So, if you're looking for a painless, effective, and a lot more affordable face-lift, then HIFU treatment is an ideal option. The results will come in months, and they're long-lasting. What's more, you don't have to go to the clinic anymore; you can enjoy spa-like face-lifting from the comfort of your home.
The Best HIFU
The world's most advanced household HIFU facelift machine
Dr. Bauer HIFU POWER Set contains:1) Dr.Bauer HiFu Home Use Device + 2)  Activator + 3) Dried Bio Cellulose Face Mask
– This single-button beauty device uses advanced technology like the professional HIFU beauty machine to provide at-home, non-invasive facial lifting treatment.
– It's equipped with three intensity levels to allow you to customize the lifting treatment experience.
– The device is USB-rechargeable and can be used anywhere, as long as there's a power connection.
– It offers two treatment modes – eye and face mode.
– This portable device is easy to use and completely safe, making it suitable for at-home use.
– The machine stimulates collagen production to firm sagging skin and reduce the size of enlarged pores.
– It restores skin elasticity while diminishing the appearance of wrinkles and improving your facial contours.
Wrinkle reduction
Tightening sagging skin on the neck
Lifting the cheeks, eyebrows, and eyelids
Enhancing jawline definition
Tightening of the décolletage
Smoothing the skin